Cornwall Manor Concert Series
Apr. 07, 2017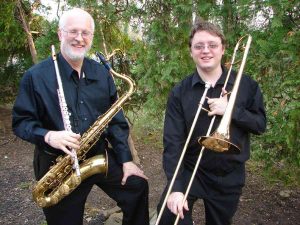 The fourth concert in the Cornwall Manor Concert Series will feature the father-son duo of Tom and Greg Strohman on Friday, April 7, 2017 at 7:30 PM in Freeman Auditorium (second floor of the Freeman Community Center). Tickets are $10/person and can be purchased at the door the evening of the concert (if you do not have a season ticket). This concert is sponsored by Cornwall Manor resident Skip Dellinger.
Despite being father and son, Tom and Greg Strohman are each unique musicians in their own right. For decades Tom Strohman has played saxophone, clarinet, flute, and keyboard in many jazz and commercial music settings, while Greg Strohman has performed as a trombonist and pianist in primarily classical music environments.
Born in Lebanon, Tom started playing piccolo at the age of six. Under the tutelage of his father, H. Herbert Strohman, Tom studied flute, saxophone and clarinet. He continued his studies at Lebanon Valley College with Frank Stachow, eventually graduating with a B.S. in Music Education.  In addition to earning a M.M. in Jazz Performance from Towson University, Tom has also studied with Joe Allard, Phil Woods, Walter Bishop, Jr., Adolphe Sandole, Charles DeLaney and John Oberbrunner.
While in high school, Tom developed an interest in Jazz.
Since 1974, Tom has been a member of Third Stream, one of Pennsylvania's finest contemporary bands. Tom is also Professor of Music at Lebanon Valley College, where he directs the Jazz Bands and Sax Ensemble and teaches Saxophone, Jazz Studies and Orchestration. He currently resides in Lebanon with his wife Sherie. They are the proud parents of son Gregory and daughter Megan.
Greg has always enjoyed a diverse yet extensive musical background. From an early age he studied and pursued trombone, piano and music composition, winning numerous accolades in all three areas. As a high school student, he appeared as a pianist on national public radio's showcase for young classical musicians, "From the Top." As an undergraduate student, he was a three-time finalist for the International Trombone Association's Larry Wiehe and Marstellar competitions. His compositions and arrangements have been performed and recorded by a wide range of ensembles and individuals throughout the greater Philadelphia and Harrisburg metropolitan areas.
Greg has performed and collaborated as either a trombonist or pianist with many internationally renowned musicians—including various present and former members of the Metropolitan Opera, Philadelphia Orchestra, San Francisco Opera Orchestra, United States Marine Band, Canadian Brass, Boston Brass, and American Studio Orchestra. He has taught various courses, lessons, and masterclasses at a variety of institutions—including Temple University, Lebanon Valley College, Immaculata University, and Dickinson College.
Greg earned his Doctor of Musical Arts (D.M.A.) degree in trombone performance with a minor area in music theory from the Boyer College of Music and Dance at Temple University in Philadelphia during the spring of 2014 with his monograph dissertation entitled "Psychoacoustic Entropy Theory and Its Implications for Performance Practice." He also earned a Master of Music (M.M.) degree in trombone performance from Temple in 2010. Prior to Temple University, Greg earned two Bachelor of Arts (B.A.) degrees (one in trombone and the other in piano), and a Bachelor of Science (B.S.) degree in physics from Lebanon Valley College in Annville [PA]. His former teachers include Matthew Vaughn, Glenn Dodson, James Erdman, Dennis Sweigart, Scott Eggert and Rodney S. Miller.
For more information on Cornwall Manor's Concert Series, please click here.