Cornwall Manor awards scholarships
Aug. 05, 2016
Cornwall Manor's Ralph L. Weik Memorial Scholarship Fund, which provides scholarships to Cornwall Manor employees and their families, awarded two scholarships today during a reception held on the Buckingham Mansion Porch.
The Weik Scholarship Fund was established in 1991 and honors the memory of Ralph L. Weik, a dedicated maintenance employee with 27 years of service.
The scholarship recipients are:
Dominick Burress, Lebanon, will be a freshman at Penn State University and is pursuing a Bachelor of Science degree in Accounting. Dominick's mother, Wendy Burress, is a Social Worker for Cornwall Manor.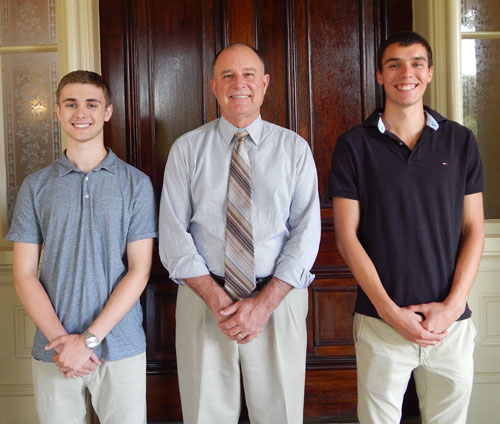 Daniel Neiswender, Lebanon, will be a junior at Bloomsburg University and is pursuing a Bachelor of Science degree in Nursing. Daniel's mother, Gretchen Neiswender, is the Employment and Benefits Coordinator at Cornwall Manor.
This year marks the 25th Anniversary of the Scholarship Fund and each recipient was awarded a $2,500 scholarship. The Weik Scholarship Fund has provided over 100 scholarships, totaling almost $50,000, for Cornwall Manor employees or their spouses and dependents to assist them with post-secondary education.
Employees and residents participate in annual fund raisers to help build this fund. Thanks to the gifts from residents and employees, the Scholarship Fund contains over $85,000.
Pictured from left to right: Dominick Burress, Cornwall Manor President Steven Hassinger, and Daniel Neiswender.