Boot Scootin' Boogie
September 2017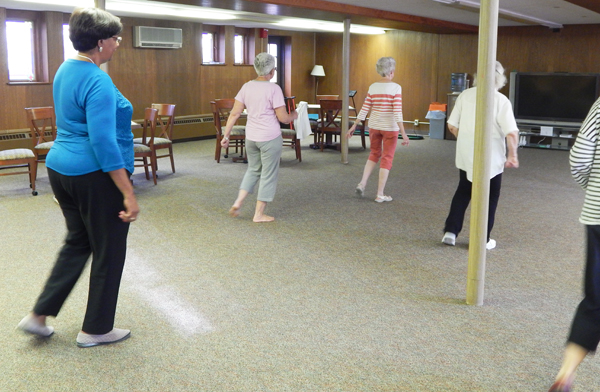 Cornwall Manor resident Debbie Grubbs started "Happy Feet," a line dancing class in spring 2013. She and her husband, Steve, moved to Cornwall Manor in the fall of 2012 from Harrisburg. Soon after moving to Cornwall Manor, Debbie and Steve attended an activity in Freeman Auditorium that had a DJ. "I requested the Electric Slide. I was the only person dancing. Afterwards, many residents approached me and asked if I would teach them the dance moves," states Debbie.
One of many activities offered at Cornwall Manor, the Happy Feet Line Dancing class meets weekly from mid-September through mid-June in the Manypenny Recreation Room (lower level of Zerr Chapel). There are participants who attend regularly and residents who may attend for a couple of weeks to brush up on their dance skills for a wedding or family member's graduation party. Happy Feet also performs twice a year for Health Center residents and at special performances by request (like the annual Levitz Park picnic). "We welcome all new comers. Whether you want to watch or join in the fun – and there's no cost to participate," states Debbie.
"Music is good for the body and mind. Everyone has at least one song that can get them moving, singing or swinging their arms." We welcome both individuals and couples. "A line dance," Debbie explains, "is a choreographed dance with a repeated sequence of steps. People dance in lines facing in the same direction, hence the name."  The class has learned many line dances like Alley Cat, Chicken Dance, Hava Nagila, Cupid Shuffle, Electric Slide, Macarena, The Ramble, and the Wobble. There are many favorites among the class – including Achy Breaky Heart and Boot Scootin' Boogie. Debbie keeps a line dancing song list on her iPad that she plays in class.
"Sometimes we do more laughing than dancing," states resident and Happy Feet participant Sara Vollmar. "Dancing is just fun."
"Dancing is not my gift, but I enjoy it so much. When you hear familiar tunes, you just move," states resident and newest Happy Feet member Daphne Messersmith.
"Just keep moving. And laughing," says Debbie. "Those are the only class requirements."