Cheers to 40 Years: President Steve Hassinger Retires
February 2019
Cornwall Manor President Steven D. Hassinger will retire on March 1, 2019, after providing over 40 years of service to the Cornwall Manor community. Steve was hired in December 1978 as the Administrator of Health Care Services, was promoted to Executive Vice President in 1980 and took over as Cornwall Manor's fifth president in 1989. He took some time to reflect on his Cornwall Manor career spanning four decades during an interview with Stacia Layser, Public Relations Coordinator.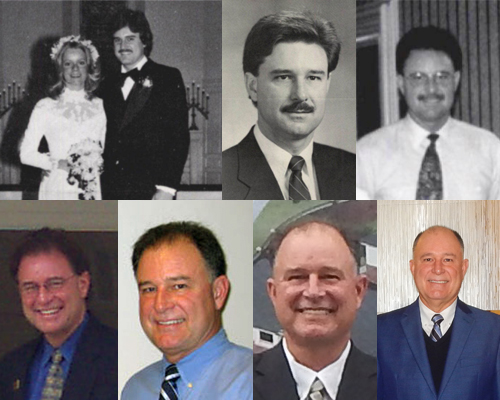 Photos above – top row, left to right: Steve and Jean Hassinger's wedding photo (1978); promotion to Cornwall Manor's fifth President/CEO (1989); congratulating Weik Scholarship recipients (1999). Bottom row: Ribbon-cutting for The Woods (2004); celebrating 30 years of service to Cornwall Manor (2008); groundbreaking for the new Cornwall Manor Health Center (2014) and "Gift of Gratitude" reception (2018).
Q: How would you describe your time at Cornwall Manor?
A: A wonderful and fulfilling journey. I've experienced numerous accomplishments and also have faced hardships along the way. As Cornwall Manor was growing, developing and maturing, so was I. I was 26 when I was hired by The Rev. Donald Miller (third president). This was my second job out of college. I had worked at a nursing and rehabilitation facility in Philadelphia for three years. Cornwall Manor looked like a slice of heaven the first time I drove through the front entrance. In 1980, Harrie Schimmel (fourth president) took over and soon after, I was promoted to Executive Vice President. Harrie was the first businessman the community had placed in charge. My first decade (1978-88) was very busy and stressful. These were trying times for Cornwall Manor – we were in financial distress. Harrie developed a business plan for growth and turning the ship around. When I took over in 1989, I was able to take the community into the future. Together with the Board and management team, we adopted the first strategic plan in 1991 which has had steady growth and is currently in a very stable financial position. With the 'business' components of planning, growing, competing and leading, I also realize that the key component of any 'business' plan is our greatest asset is people – the residents and staff. I've learned so much from both. Our residents inspire me. I have witnessed their strong faith when dealing with adversity like facing health problems/aging issues. While I have a great sense of accomplishment from the development of Cornwall Manor, this leadership experience has allowed me to grow personally and spiritually and feel fulfillment.
Q: During your tenure as President, you have overseen many construction projects including the second phase of Laurel Place apartments (1989); construction of duplex homes on Gatehouse Lane (1994); Buckingham Mansion renovation (1995); addition of wellness center (1996); Woods project beginning in 2004 with "The Meadow" neighborhood, the second neighborhood, "The Glen" (2007), followed by the third neighborhood "The Grove" (2012) and site work in the final neighborhood "The Pines" (2018); Carriage House apartments (2015), the new health center (2015), and Freeman Community Center renovations (2017-18). What has been your most memorable project?
A: Building the health center. We knew we needed a new health center. It was an enormous project. The Board, management staff and I had to position Cornwall Manor to responsibly take on a project of this size. Researching and planning what residents living in skilled care would benefit from; garnering support from residents, employees, family members, volunteers and the community to support this project; and putting the community in a financial position to responsibly take on $16 million in debt were quite a challenge. That successful planning took over a decade, but successful planning has given us a beautiful final product featuring resident-focused care for 96 residents in four households, each with 24 private rooms and private bathrooms.

Q: What do you see as your greatest achievement when it comes to leading a retirement community for four decades?
A: Growth – which comes in many different forms. Cornwall Manor is financially secure. Our endowment fund is over $25 million and our cash reserves are also secure. Looking back 30 years ago, we had no reserves and $500,000 in the endowment fund. Additionally, adding a variety of accommodations increased our resident growth and that resident growth fostered new amenities and services for a growing population. Being able to see steady growth – financially and in size – are satisfying achievements.
Q: What are some of the biggest challenges you have seen in the senior living industry over the past forty years?
A: Today there is much more government involvement in regulations; there is more continuing care retirement community competition; health care and insurance is more complex; employee recruitment and retention is more challenging and our clientele seek a stronger sense of value. They have more options and are doing their research. There have been many challenges, but we don't grow when things are easy. We grow when we face challenges.
Q: What did you learn from your predecessor, Harrie Schimmel that helped prepare you to lead Cornwall Manor? What advice do you have for your successor?
A: Harrie taught me to 'do my best and be myself.' I also learned to 'listen to people.' When people are invested in what they believe in, you'll get better results. He also encouraged me 'try new ideas.' He said everyone makes mistakes – just don't make the same mistake twice. My advice for Lee would be many of the same valuable qualities. Be involved and visible. Let people know how much passion you have for Cornwall Manor. Everyone possesses talents and expertise to contribute to making a better community. Take time, don't rush, to make important decisions. There is always another perspective. Include others to shape your opinion.
Interviewer's note – Lee Stickler, Executive Vice President, will succeed Steve as Cornwall Manor's sixth president. Lee was hired in November 1988 as the Vice President for Fiscal Services and transitioned to Executive Vice President in January 2018.   
Q: What do you hope that residents and staff will remember you by?
A: That I am down to earth, friendly, sincere, caring and easy to talk to. I know as the President I can't make everyone happy, but I'm trying my best.
Q: The Cornwall Manor Society and Residents' Association solicited retirement gifts in your honor and raised over $20,000. You designated those gifts to begin a fund for health and wellness programing for personal care and health center residents. Why are health and wellness so important to you?
A: People are living longer due to advances in technology and medicine. You must focus on your physical and mental health and take care of yourself to be your best you. Cornwall Manor has long endorsed the wellness principles to nurture the mind, body and spirit. To do a good job, you must take care of yourself first. I am extremely grateful to everyone who contributed to this gift of gratitude in my honor. Knowing that this fund has been established and will increase wellness opportunities for personal care and health center residents warms my heart.
Q: Where do you hope to see Cornwall Manor 40 years for now?
A: Continuing to grow. We must continue to grow to stay a strong and viable community in the future. We need to collaborate with other organizations and provide additional services to target larger audiences. While growth is important, my hope is for Cornwall Manor's mission and values to remain in the hearts of the people who live and work here. This community is not only a beautiful place to retire, but a beautiful place to be.
 Q: What's next for you and your wife, Jean?
A: Stop and smell the roses. I've been seeking for direction in prayer about what is next. I love to travel. I need to step up my fitness program and work on my golf swing. I want to get reunited with friends and spend more time with my family.
Interviewer's note – Steve and his wife, Jean, reside in Lebanon. They have three children and two grandchildren.