Cornwall Manor Celebrates Arbor Day
April 2017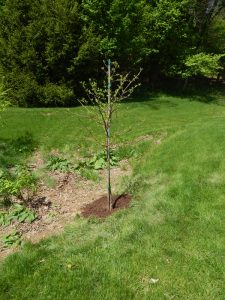 Cornwall Manor is a unique and charming place to live, nestled on 190 acres of colorful gardens and wooded grounds. Our beautiful, wooded acreage is one characteristic that sets Cornwall Manor apart from other senior living communities. Trees are very important to Cornwall Manor – so much that we incorporated trees into our logo.
Cornwall Manor's Buckingham Campus is fortunate to be home to many trees, including four "champion trees of Pennsylvania" as listed on the PA Big Trees registry. A European Chestnut Tree in front of the Buckingham Mansion; a Golden Rain Tree next to the Providence Meditation Room (behind the Administration Office Building); a Japanese Cedar southwest of the Buckingham Mansion and an Arborvitae on the Buckingham Mansion lawn (near the Bocce courts).
Many trees on Cornwall Manor's campuses are planted in honor or memory of loved ones. Cornwall Manor keeps a "tree book" – a complete listing of all trees donated as well as annual Arbor Day plantings. Tree books are available for viewing in the Administration Office Building and the Fireside Room.
Cornwall Manor also has a 'Tree Interest Group' that is interested in the history, preservation and repopulating of the trees on Cornwall Manor's campus. The group sends a recognition certificate to any donor who plants a tree. The Tree Interest Group also plans and selects the tree for the annual Arbor Day ceremony.
This year marks the 32nd annual Arbor Day celebration at Cornwall Manor and a Chinese Fringe Tree (pictured) has been planted at the intersection of Wildflower Lane and Meadow Drive. We are very grateful to have a beautiful community decorated with many different types of trees. Trees can be short, trees can be tall. Whatever the tree, Cornwall Manor loves them all.