Cornwall Manor CROP Walk
April 2017
City Ministries is a fellowship of residents at Cornwall Manor who are interested in learning more about the outreach of ministries of churches and institutions in the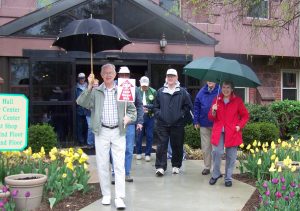 Lebanon community, of which Cornwall Manor is part. The group formed in spring 2009 by residents Robert and Harriet Ziegler and a leadership team to provide education and opportunities to support the many significant ministries in the Lebanon Valley and beyond.
Through informational sessions provided for residents, they have learned about the Lebanon Free Health Clinic, Lebanon County Christian Ministries, Lebanon Housing Authority, Congregation Beth Israel and Lebanon Valley Mosque, prison ministries, and city schools to name a few.
In addition to learning about their surrounding community, the City Ministries group has jumped into several projects of their own to make a difference. Several Cornwall Manor residents have established drop-off sites in their Cornwall Manor neighborhoods for nonperishable groceries that are donated regularly to Lebanon County Ministries.
In 2010, the group began sponsoring a Cornwall Manor CROP (Communities Responding to Overcome Poverty) Walk. This year, City Ministries held their 8th annual CROP Walk on April 22 and proceeds from this event supports the work of Church World Service, an ecumenical ministry of 36 denominations and communions working in partnership to eradicate hunger and poverty and to promote peace and justice around the world.
Over the last seven years, Cornwall Manor CROP Walks have raised over $29,000 for Church World Service, 25% of which was returned to the local food bank at Lebanon County Christian Ministries. There were 53 participants who walked or rocked (in rocking chairs) for this year's CROP walk and a record-breaking $5,166 was collected.
Cornwall Manor is extremely grateful to everyone involved in City Ministries for the valued informational programs they provide and work they are doing to better our Lebanon Community.