Cornwall Manor Residents go the Distance
December 2016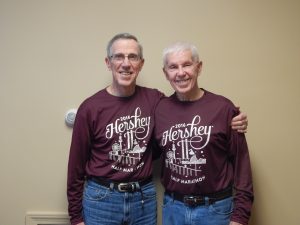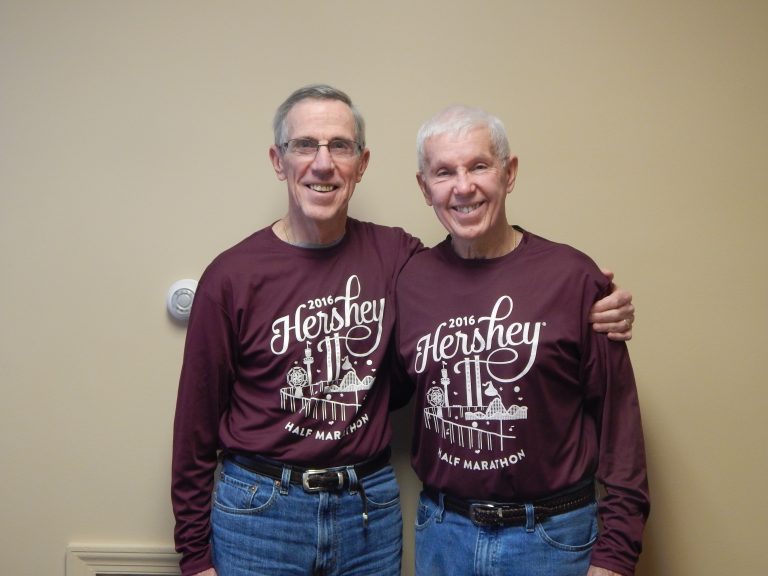 "I don't run to add years to my life; rather, to add life to my years," says Larry Tonzi, Cornwall Manor resident. Larry started running at the age of 14. "I was too small for the high school football team, so I joined the cross country team instead."
Howard Hockenbury, who also lives at Cornwall Manor, began running at the age of 33. "For me it was a wake-up call. I needed to take better care of myself. I started out running a mile a day and soon increased to two miles a day to running 5Ks, and 10Ks."
Howard ran the Hershey 10K in April and was encouraged by a Cornwall Manor employee to sign up for the half marathon. He joined forces with Larry and they ran the Hershey half marathon together as a relay team. Both men are in their 70s and enjoy the camaraderie of fellow runners. "Running is like its own little sub-community. You meet many interesting people who all have a passion for running," says Howard.
Larry shared, "every race I run is for a greater cause. I reap the health benefits of running, but participating in organized races that benefit others is important to me." The Hershey half marathon benefited Children's Miracle Network at Penn State Hershey Medical Center. For Howard, the benefits he receives from running include the opportunity for spiritual and person reflection that brings renewal of body, mind, and spirit. This component of wellness is one that Cornwall Manor strongly believes in.
To do this, a variety of fitness programming and a full-time wellness coordinator are available onsite. The Wright Family Wellness Center includes a therapeutic pool and spa and fitness center that are free of charge for residents to use. Many wellness classes and education sessions are also available. Our proactive approach to wellness continues outdoors too. Ten LifeTrail stations designed specifically for senior use are located along one of many walking trails on campus. The Lebanon Valley Rail Trail connects the Buckingham and Woods Campuses and offers opportunities for walkers, bikers and runners.
Howard is the chairperson of the Resident Associations' Wellness Committee at Cornwall Manor. This committee discusses wellness issues with the Wellness Coordinator and encourages residents to be involved in programs and activities, including the wellness center and pool. Most recently, the Wellness Committee established two one-mile indoor walking paths. One path is in Westwood and Gateway apartment buildings and the other path is in the Freeman Community Center and connecting apartment buildings.
Both Larry and Howard agree that one of the most important keys in life is to remain active as much as you can. Most chronic disease is caused by inactivity and Cornwall Manor is helpful in providing various tools for residents and staff to remain active and lead healthy lifestyles.