Cornwall Manor Society "Shines" for Residents
November 2016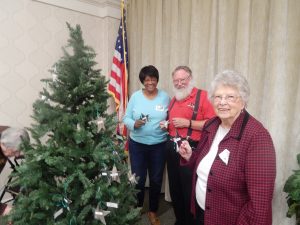 The Cornwall Manor Society's mission is to help meet the needs of all residents of Cornwall Manor, especially those in personal care and the Health Center.
They do this in countless ways throughout the year, but especially during the holiday season. One of the highlights of the Society's outreach to residents is through the "Star Project." At the organization's November general meeting, the names of residents of the Health Center and Corson Hall are placed on a Christmas tree along with suggested gift items. Volunteers take the stars and purchase gifts, which are then distributed to residents on Christmas Day. Every resident receives a gift.
In conjunction with the Star Project, the Cornwall Manor Society hosts a Christmas party in Corson Hall and the Health Center, complete with Christmas caroling, refreshments and even a visit from Santa himself. This year's party in the Health Center was held in the Jeanne and Ed Arnold Community Room.
We extend our thanks to all of the Cornwall Manor Society Christmas "elves" who spread the spirit of the season to our residents.