Dining Options at Cornwall Manor
July 2017
Dining at Cornwall Manor is as equally unique as our community. No meal plan is required at Cornwall Manor which gives our residents the flexibility to eat when they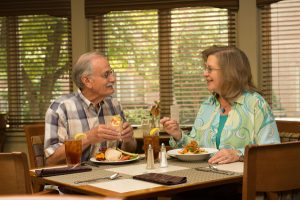 want to. There are a variety of dining choices throughout Cornwall Manor – many of which will fit our residents' busy lifestyles. You can sit down for a full course meal or grab a wrap on the go. All the food served at Cornwall Manor is made fresh, each day, onsite and is prepared and served by a team of Cornwall Manor employees.
The Freeman Dining Room, located within the Freeman Community Center, is the main dining room available on campus and features a relaxed dining environment (no shirt and tie needed!). Renovated in 2010, the dining room has booth and table seating to accommodate up to 140 people. Open for breakfast every day from 7:45 to 11 AM, the breakfast menu features a variety of delicious home cooked items that range from $1 to $5. Choose from a create-your-own omelet, or traditional favorites like buttermilk pancakes or French toast, cereal, oatmeal, egg sandwiches or eggs your way and compliment your main breakfast course with bacon or sausage and a hot cup of freshly brewed coffee or variety of juice (apple, cranberry, orange, or tomato). Don't forget – quiche and other breakfast specials are available on a daily basis.
Lunchtime begins at 11 AM and the menu offers a daily and featured soup, salads, hot and cold sandwiches, wraps, fried platters, fresh seafood, and pasta. Prices range from $2 to $10.50. All the items available at lunchtime are also available during the dinner hour – and the prices remain the same. No price increase for food items during the dinner hour. In addition to daily specials and soups, a daily meat salad (chicken, turkey, ham, seafood, egg) is also available.
Dinner is served from 4:45-6 PM. The soup and salad bar are again available during the dinner hour. Evening specials are offered as well as a Friday evening specials. Here's a snapshot of July's Friday Evening Specials (which include your choice of dessert and a beverage): Chicken & Asparagus Vol Au Vents (served over puff pastry w/green beans paysanne and side salad), Danish Quennelles (classical Danish meatballs served w/pan gravy, parslied potatoes, braised red cabbage and cucumber salad), Steak & Shrimp Embershett (beef filet tips & shrimp kabobs server over wild rice w/fresh broccoli) and English Style Stuffed Game Hen (served in a Cabernet sauce w/cheddar whipped potatoes & glazed carrots).
The Skylight Dining Room which is adjacent to the Freeman Dining Room seats 60 people. As described in its name, the Skylight Dining Room boasts lots of natural light. This space was added in 2011 and is available for lunch as well as private functions. The Freeman Dining Room menus are available in the Skylight Dining Room.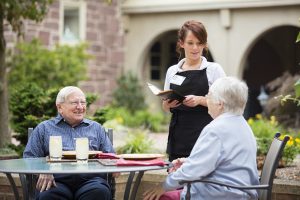 Corson Courtyard, which is situated between Corson Hall and the Skylight Dining Room offers outdoor dining from June to September during the lunch hour. There is seating for 24 with plenty of room to accommodate more, if needed. The Courtyard has lush gardens with perennials and annuals as well as a large canopy to dine out of the sun. Every summer, there are several food events held in the courtyard for the entire Cornwall Manor community that feature grilled specials and sweet, summertime fruit.
Outside of the Freeman Dining Room is Manor Café. This space offers a take-out counter for residents and staff on-the-go as well as tables to sit down and enjoy a bite to eat with neighbors. The Café is open weekdays during the lunch hour. Several "self-serve" stations are also available daily at the Café, including continental breakfast and coffee/tea stations. You can also treat yourself to one of eight Turkey Hill ice creams, sundaes and milkshakes daily until 3 PM.
The Gateway Snack Bar, located next to the Gateway Library, is open Monday-Saturday, all day and evening. A variety of breakfast and light fare items (salads/wraps/sandwiches) and beverages are available for purchase. This is an ideal spot to meet in the morning with friends for a muffin and cup of coffee or grab a sandwich on the go to an afternoon activity or event.
The 'Friday Bakery' offers a variety of fresh produce and homemade baked goods – breads, pies, cookies that are available for sale in the Wellness Center near the bank on Fridays beginning at 9 AM. Best to get there early for a good selection!
Additional options available at Cornwall Manor feature Meal Delivery Service. Don't feel like getting out of your pajamas? No problem! Meal Delivery Service is available for an additional $3 fee. Just call your order into the dining room and it will be delivered to your apartment or home! Additionally, catering services are also available at Cornwall Manor. You can select coffee and cookies for a small get-together in your apartment or the entire works for a birthday/anniversary celebration or memorial service. Food Service staff can help you select items from the regular menu or customize items to fit your theme.
Dining options are endless at Cornwall Manor and new options are always available. Check out the menu and monthly specials and stop in to dine with us!