Founders Day Recipients Emanate Energy, Enthusiasm and Encouragement
October 2019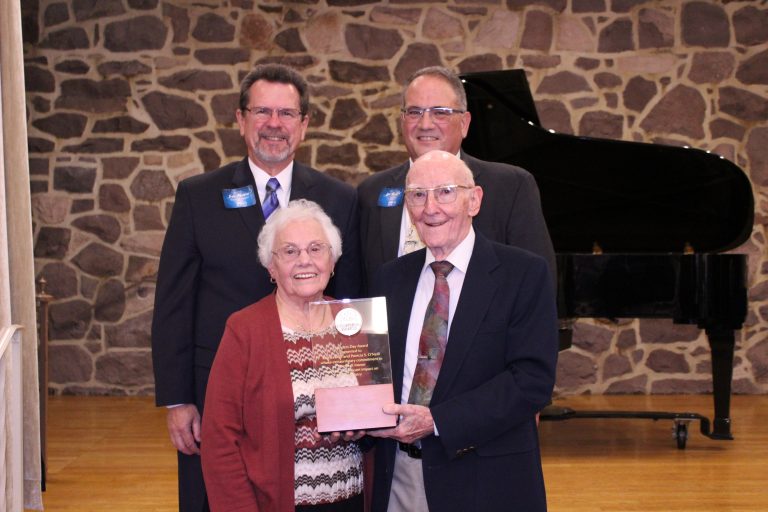 Every October, Cornwall Manor holds our annual Founders Day event, which recognizes donors for their support of our ministry and celebrates our heritage. At the event, the Founders Day Award is presented to an individual or couple "whose extraordinary commitment to Cornwall Manor has had a significant impact on our ministry." This year, Cornwall Manor presented the 2019 Founders Day Award to residents John and Patricia (Pat) O'Neill.
John and Pat met in spring 1953, while they both were attending Drew University. John was a first-year seminary student and Pat was a senior in college. Pat's roommate was dating one of John's friends, and he introduced Pat and John in the dining hall. Eventually, John asked Pat out on a date and the rest is history. They married in July 1954 and between careers in ministry and education, the O'Neill family grew by three – one son and two daughters. They moved to Cornwall Manor in December 2001 and they continue to write their life story together – including celebrating their recent 65th wedding anniversary this past July.
After moving to Cornwall Manor, they quickly immersed themselves in the Cornwall Manor community by volunteering in a multitude of roles for Cornwall Manor, the Cornwall Manor Society, and the Cornwall Manor Residents Association. John and Pat committed to the idea that they were going to participate and be involved. "Our interactions with other residents are stimulating. There is a variety of people who live here – everyone comes from a different walk of life." shares Pat.
John and Pat can best be described as the "poster children" for Cornwall Manor. They are active, engaged, positive, supportive, and they both exude energy, enthusiasm and encouragement. Every time you see John or Pat on campus, they are smiling from ear to ear. They exemplify so many qualities that contribute to making Cornwall Manor the special community it is.
It is safe to say that 18 years later, they are very happy with their decision to move to Cornwall Manor. "There has never been a time that we questioned our decision to move here." They are so pleased with Cornwall Manor's commitment to aging in place and the employees. "The staff is top notch," states John. "They have a sense of ownership to the community. The staff and residents know each other's names. We're like one big happy family."
However, making the "Cornwall Manor decision" was not a complete definitive. For John, there was no question. But, Pat needed to be convinced.
When John was 21, he just finished his service in the United States Navy in 1946. It was around the same time that a group of Methodist Clergy from the Philadelphia area purchased the historic Buckingham Mansion in Cornwall. The Rev. Dr. Levi Zerr, Cornwall Manor's Founder and First Administrator, was trying to get the newly established home more awareness. Young people were invited up on the weekends for work parties. John helped to clean out the Mansion in preparation for the first residents arriving on October 15, 1949.
He went on to attend Lycoming College in Williamsport, Pennsylvania, where he received a Bachelor of Arts degree in 1952 and furthered his education at Drew University in Madison, New Jersey, to achieve his bachelor of divinity, graduating in 1955. John is retired Methodist clergy and his career spanned 39 years and seven congregations, all in southeastern Pennsylvania, including Glen Moore, Springfield-Covenant, Canadensis, Radnor, Phoenixville First, Paoli, and Bethlehem-Wesley. He would frequently visit members of those various congregations at Cornwall Manor.
From helping to clean out the historic Buckingham Mansion, which is still the centerpiece of Cornwall Manor's Buckingham Campus today and visiting church members who moved here, John always knew Cornwall Manor would one day be home. They knew living in a retirement community was a definite, but which one? The O'Neills looked at 30 different communities, but Pat felt Cornwall Manor was in the "boonies," too far from suburban life that she loved.
The more she thought about it, the more it became appealing to her. Acquaintances were moving to Cornwall Manor and Pat admired the blend of historic buildings and new construction on the campus. She recalls the grounds were well-maintained with colorful gardens and stately trees. Cornwall Manor didn't have any cookie-cutter homes and there were no high-rise buildings. So, they put their names on the waiting list.
Since they always lived in church property, the first time they owned a home was after John retired. At 75, he was on a ladder, cleaning the gutters on a blustery day. A strong gust of wind shook the ladder just enough that John knew it was time move.
They made an appointment to visit Cornwall Manor and the stars must have aligned that day. They looked at a house on Applehill Drive. They knew the former occupants – friends who attended Bethlehem-Wesley UMC when John was the pastor there. It was an omen for Pat. They decided on the Applehill house and sold their Phoenixville home in four days. Another sign.
After moving to Cornwall Manor and getting involved in the community, they also attended the Harrisburg Symphony and later the Hershey Symphony to continue their suburbia lifestyle. Since moving here in 2001, Lebanon County has developed a great deal. There is plenty of shopping, dining, arts and cultural events here as well as in nearby Lancaster, Hershey, Harrisburg and Reading.
John has served our community in a number of roles. He has volunteered on Cornwall Manor's Resident Association's Resident Representatives Committee, Building and Grounds Committee, Garden and Greenhouse Committee and served as President of the Residents Association from 2010-2012. Through his involvement with the Residents Association, he also served on Cornwall Manor's Volunteer Management Team. John is also very involved with the ministry on campus by serving as an usher and chapel assistant at our beautiful Zerr Chapel. He is also a member of the Zerr Chapel choir and was a member of Cornwall Manor's Eldertones. John also finds time to work in Cornwall Manor's Woodshop and was an aide in Gateway Library. He is also an active member of the Cornwall Manor Society and has volunteered for numerous Society fundraisers including the annual Festival at the silent auction and as a host and has helped in both Corson Personal Care and the Health Center with special events like the annual Fun Fest and Christmas Parties.
Along with John, Pat is also active with the ministry on campus. She is a Zerr Chapel assistant, sings in the choir and is a member of the handbell choir. Pat's involvement with the Cornwall Manor Society includes serving as President for three years from 2012-2014, she works in the Manor Shoppe and is part of the gift shop and convenience store's management team, she has served on the Society's Executive, Nominating, Public Relations, Finance, and Bylaws Committees; she volunteers in the Health Center as a Greeter, Shoppe on Wheels attendant (which delivers treats and smiles to Health Center residents) and participates in the Horizons Unlimited program, which is a memory stimulation program for personal care and health center residents. She also has been an active participant for the annual Festival by working at the silent auction and being a host. Just this year, Pat coordinated all the volunteers who worked on the day of the Blooms & More Festival. She has also been instrumental in helping to plan milestone anniversary celebrations of the Cornwall Manor Society – and she continues in this capacity by preparing for the Cornwall Manor Society's 70th anniversary, which will take place in 2020.
John and Pat are also instrumental in Cornwall Manor's marketing efforts. They have participated in marketing photoshoots and are marketing hosts that speak to prospective residents at open houses and seminars. They share their message from their hearts of why they chose Cornwall Manor and how it has been the best decision for them. Their efforts have been very successful.
Pat also served on the Resident Campaign Committee for the Health Center. The "Heart. Health. Home. Future Fund" capital campaign ran from 2010-2015 and raised over $6 million dollars for the beautiful health center on our Buckingham Campus. John and Pat supported the project in many ways. The health center now sits where the homes along Applehill once did – including John and Pat's home. In order to make room for the health center on the Buckingham Campus, several residents, including John and Pat, relocated to other accommodations in order for the Health Center to be built. Additionally, they supported the Health Center campaign with a generous personal gift.
The O'Neills also are very supportive of Cornwall Manor's ministry of benevolent care, which is the provision of assistance for residents with depleted financial resources. They are already members of the Buckingham Society and this year are being recognized as Faithful Friends.
John and Pat have seen their share of changes during their 18-year tenure. The biggest ones they recall are seeing the community grow, the upgrades of the buildings and the new health center.
Their children also feel that their move is the best gift John and Pat could have given them. To have quality care and to know that their parents will always be taken care of is a blessing.
We are proud and fortunate to have John and Pat as part of our Cornwall Manor family. As you can see, their extraordinary commitment through volunteering and support of our mission has had a significant impact on our community. All of us at Cornwall Manor – the Board of Trustees, residents and staff of Cornwall Manor – we thank you for your leadership, commitment, dedication and support.
Pictured above are Pat and John O'Neill (front row) and Rev. Thomas Maurer (back row, left), Chair, Cornwall Manor Board of Trustees and Lee Stickler (back row, right), President & CEO, Cornwall Manor.