A Gift That Gives Back
May 2018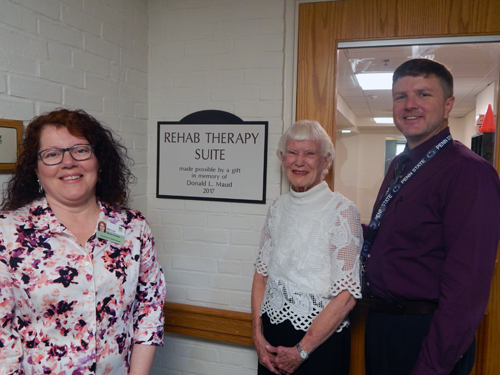 Cornwall Manor resident Ruth Maud seems to have found that "secret elixir" because she has demonstrated many ways to show her support for Cornwall Manor, most recently with a gift for the newly renovated campus Rehab Therapy Suite. As part of the $4.5 million construction and renovation of the Freeman Community Center, Wellness Center and other areas of campus, the Visiting Physicians' Office (VPO) was relocated to new space on the second floor of the Community Center, and the outpatient therapy area was moved to the larger space in the former VPO.
Apex Therapy Services provides physical, speech and occupational therapy for residents in this location as well as at the Tree House in the Woods and in the George and Betty Matthews Therapy area in the Health Center. When the plans for the Community Center renovations were announced, Ruth approached the staff and said that she would like to support the project with a gift for the therapy suite.
Ruth and her husband Donald moved to Cornwall Manor in 2003 and were married for 68 years. Don passed away in 2014. He was a pilot in World War II and according to Ruth he saw many friends who suffered serious injuries in the war. He had great compassion for those who experienced physical injuries, and after the war he attended Ohio State to become a physical therapist. He was employed by the Lebanon Veterans Administration Hospital where he worked with the blind; created braces and equipment for those who had physical disabilities; helped form outpatient services and provided emotional support. Ruth, who had been a guidance counselor in Lebanon County schools, wanted to honor her husband's memory with a gift for the rehab therapy area.
She also provided a gift for the handicapped accessible meadow area observation deck in 2017 so that residents and visitors could enjoy the beauty of nature. We are very grateful to Ruth Maud for her generosity that gives life meaning for our residents.
Photo: Cornwall Manor Administrator of Health Services Minnie Strickler (l)., resident Ruth Maud, and Apex Physical Therapy Manager Trent Roadcap at the entrance to the Rehab Therapy Suite given in memory of Ruth's husband Donald Maud.