Horizons Unlimited offers Memory Stimulation for Residents
May 2017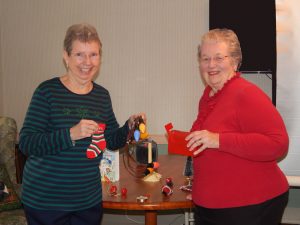 Twice a month, Cornwall Manor's Personal Care and Health Center residents are treated to a program by the Cornwall Manor Society that includes photographs, memorabilia, conversation and reminiscing. This unique program is called "Horizons Unlimited."
Horizons Unlimited is a cognitive stimulation kit based on a theme or topic. The kit includes contents like music, photographs, DVDs, and memorabilia. There are more than 130 different kits available on topics like people, animals and nature, seasons, holidays, decades, American history, places to go and special topics. The kits are used to encourage conversation and social interaction among older adults. This brain fitness activity is ideal for any level of cognitive ability.
These cognitive stimulation kits were designed over 35 years ago by Horizons Unlimited Geriatric Education Corporation, an agency serving the elderly in Delaware County. Today, they are offered by Senior Community Services in Folsom, Pennsylvania. There are about 40 organizations that utilize the kits from Senior Community Services and Cornwall Manor is one of them.
The Cornwall Manor Society has been offering Horizons programs since 1998. At the time, Jane Harris, a former Cornwall Manor resident and President of the Cornwall Manor Society invited Harriet Ziegler to a Society meeting to share information on Horizons Unlimited.
Ziegler was hired in 1987 by Horizons Unlimited to create kits and provide volunteer training.She would produce 10 kits a year. Many of the kits in circulation today are ones that Harriet put together. Ziegler and Harris were acquaintances because both Harriet's husband, Robert and Jane's husband, Paul were Methodist clergy.
After Harriet's Horizons Unlimited presentation, the Cornwall Manor Society immediately adopted the project. The Society initially offered Horizons in the Health Center, but the project grew so popular that it expanded to Corson Hall (personal care). The Society covers the cost of renting the kits and the postage to return them to Senior Community Services. Additionally, Society volunteers oversee the scheduling of Horizons programs in the Health Center and Corson.
In the fall of 2001, Harriet and Bob Ziegler moved to Cornwall Manor and in 2002 became the Horizons Coordinators until 2011. Residents Steve and Sue Tobey coordinated the program from 2011-2014.
Today, Horizons Unlimited is coordinated by residents Susan Bitner and Nancy Mills, who feel blessed with the opportunity to participate in this wonderful program. Bitnerand Mills work closely with the 35 resident and community volunteers that present Horizons Unlimited programs. Bitner stated, "we order kits that we believe our residents will connect with. We believe that the time spent with our fellow residents revives memories, promotes sharing and brings many smiles, The Horizons presenters freely express the joy and pleasure that it brings to them as well when they see how the Horizons Unlimited program benefits our residents."
Horizons Unlimited is in need of additional volunteers to present memory kits. If you would like more information on volunteering for Horizons Unlimited, please call Cornwall Manor's Volunteer Coordinator at 717-675-1514.