Meet Team Member Aleah Fawver, Campus Nurse
March 2017
Aleah Fawver, LPN, Cornwall Manor's Campus Nurse, always knew she wanted to be a nurse. "Through helping residents, I am able to get to know them – and that is one of the things I enjoy most about my job" she says.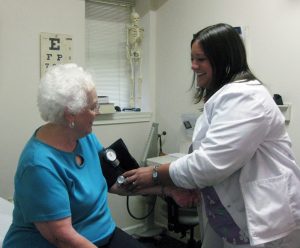 Aleah joined the Cornwall Manor team in February 2004 when she was hired into Cornwall Manor's Certified Nursing Assistant (CNA) Trainee Program. She received her training through Cornwall Manor and after completion, she worked as a CNA in the Health Center. "I really enjoyed being a CNA. When you provide the best hands-on resident care, that's when you really get to know them."
Aleah continued her schooling through the Lebanon County Career and Technology Center and graduated from nursing school in June 2006, becoming a Licensed Practical Nurse (LPN). She advanced her Cornwall Manor career in the Health Center from a CNA to an LPN Unit Manager and in December 2012, Aleah became the Campus Nurse.
Cornwall Manor's Campus Nurse keeps very busy since she coordinates and supervises health services for campus residents. Aleah is responsible to respond to emergency calls from campus residents, oversees discharge orders of campus residents leaving the hospital or Cornwall Manor's Health Center by monitoring their progress and making sure that they have medications needed and follow-up appointments have been scheduled. She is a vital link between residents, families, physicians and the Cornwall Manor Health Services staff.
When she is in the office, she also can see residents for vital sign checks, immunizations, lab tests, wound dressings, injections and she assists the physicians from Lebanon Internal Medicine Associates (LIMA) and Lancaster General Health/Penn Medicine (LGH) who hold office hours at Cornwall Manor.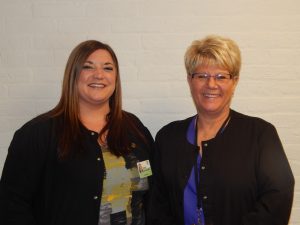 Recently, Cornwall Manor expanded their Visiting Physicians Office (VPO) hours to include weekends. Now, the VPO is open seven days a week from 8 AM to 4 PM. Working with Aleah is Linda Field, LPN. Linda has been a Cornwall Manor Team Member since 1981.
Aleah said, "this is not like working in a typical doctor's office where you may see the patient every six months. I like forming relationships with the residents, so when I see them on campus, we can talk about their grandchildren, who they picked for their March Madness bracket, or their weekend plans. I feel fortunate to provide quality care as well as having interactions with our residents."
We are fortunate to have Aleah Fawver as part of the Cornwall Manor team and grateful for the compassionate care she provides.