Mt. Gretna: A Summertime Retreat
July 2017
Mt. Gretna, Pennsylvania was discovered in 1883 as a pleasant place to spend a summer day along the extinct Cornwall and Lebanon Railroad linking the Reading Railroad in Lebanon with the Pennsylvania Railroad near Elizabethtown. In 1889 iron-foundry heir and generous owner of most of Mt. Gretna's original land, Robert Coleman, built a narrow gauge railroad to carry visitors from the park, around the lake and up to the top of Governor Dick HIll where they could see as far as Lancaster and Harrisburg.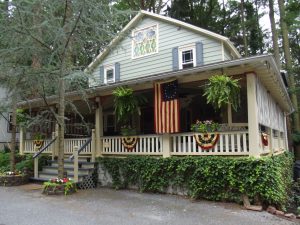 Mt. Gretna's 89-acre-setting, appealing charm and history makes it a very popular place in the summer – drawing visitors from all over. There are many summertime activities and events that bring the community to life, but Mt. Gretna offers its retreat-like lifestyle year-round. Fortunately for Cornwall Manor residents, Mt. Gretna is a very short drive – less than 5 miles from the Buckingham Campus and about 3.6 from The Woods at Cornwall Manor, which makes Mt. Gretna an ideal spot for Cornwall Manor residents to take advantage of a multitude of opportunities in our backyard – literally. Gretna's unique grounds feature towering pine and hardwood trees, wildflowers and quaint cottages.
When planning a trip to or visiting Gretna, here's a list of top events to take advantage of in the summertime.
People have been gathering at the Mt. Gretna Tabernacle/Bible Festival since 1892 during the summer for a time of spiritual renewal. Since 1899 they have gathered in the structure that still stands today and is known as "The Tabernacle."  The Bible Festival offers an uninterrupted series of summer-time programs of worship, teaching, and music.
Summer Programs are held in the Hall of Philosophy and range from art lectures and workshops to children and family programs, crafting (flower arranging, jewelry-making, mosaics and more, etc.) film and theatre, wellness lectures and more.
Cicada Festival a week long music festival held throughout the summer at the Gretna Theatre.
Gretna Theatre One of the oldest summer theatres in the United States, Gretna Theatre since 1927 and features a mix of Broadway musicals and comedies as well as musical revues and theatre for children.
Art Show & Summer Craft Market – The Mount Gretna Outdoor Art Show returns the third weekend in August, bringing hundreds of artists and thousands of visitors to the secluded woodland neighborhood. This year marks the 43rd anniversary of the show, and more than 200 artists – selected through a juried competition – will have their works on display. A full list of exhibitors is available at the event website, and is separated by medium – artwork will include acrylic painting, woodworking and everything in between. Held the same weekend as the Art Show, the Summer Craft Market exhibitors display and sell quality American-made handcrafts and original art pieces.
Gretna House Tour – Enjoy a fascinating glimpse into the architecture and style of Mt. Gretna's iconic homes. A self-guided walking tour includes homes and gardens of contrasting sizes and styles, reflecting the various styles and tastes of Mt. Gretna homeowners.
Mt. Gretna offers opportunities to fill a couple of hours, a day or week – or even an entire summer. If you're passing through the area (or finished with your tour at Cornwall Manor), you owe it to yourself to check out the "spirit" of Mt. Gretna.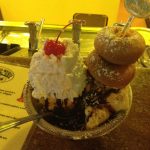 Enjoy a day at Mt. Gretna Lake & Beach by swimming, biking, canoeing or (mini)golfing at the recreation facility. A variety of dining experiences are available in Mt. Gretna. Choose from pizza and subs to dinner theatre, outrageous ice cream creations since 1905, breakfast and lunch delights made from scratch, or enjoy tavern classics on the deck. Make sure to stop by the Gretna Emporium which carries a unique selection of garden flags, yard art, gift items and jewelry. Whatever you do in Mt. Gretna, be sure to take in the beauty of this quaint little community.