On the Right Track: Cornwall Manor's Railroad Club
December 2016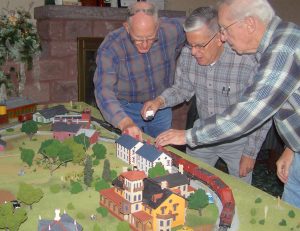 The quiet little town of Cornwall, Pennsylvania was once a hub of activity in the iron ore industry. Cornwall contained the largest deposit of iron ore east of the Mississippi River and was actively mined from 1739-1972. The iron ore industry developed Cornwall to include homes in several villages, the Cornwall Iron Furnace and railroads to transport the iron. This piece of Cornwall history is the concept for Cornwall 1950, a model railroad layout put together by train enthusiasts living at Cornwall Manor.
The layout measures four-by-eight-feet and showcases Cornwall and parts of Lebanon in 1950. The layout includes several replica buildings that existed during that time in Cornwall like the Cornwall Iron Furnace, Cornwall Railroad station (today serves as the Cornwall Borough Police Station) and homes in the village of Burd Coleman. Also included in the layout are the historic Buckingham Mansion and Paymaster's Building, both of which are still part of Cornwall Manor's campus. Video of the display is below.
About six months ago, Cornwall Manor's Railroad Club began putting together Cornwall 1950 in HO (half gauge). Several residents in the Railroad Club did extensive research to make the layout as authentic as possible. One resident even took photographs and measurements prior to constructing the buildings seen in the layout. Cornwall 1950 is currently on display in the Freeman Community Center for all residents to enjoy.
The Railroad Club is one of Cornwall Manor's newer special interest groups and has about 16 residents who are members. "Everyone in the Railroad Club brings something different to the group," states Glenn Fisher, Cornwall Manor resident and current president of the Railroad Club. "It's fun to share a similar interest with many others – as well as learn different aspects of railroading from one another."
The Railroad Club is looking forward to expanding – in multiple ways in 2017. First, the club's next project is to expand Cornwall 1950 further into Lebanon. Additionally, the group will be relocating to a larger space as part of Cornwall Manor's renovations, set to begin next year. The larger space will accommodate the Railroad Club's expanded layout and any additional residents who have an interest in model railroading or would like to learn more.