Trailside Organic Farm – January 2022 Update
January 2022
Submitted by Ian Frederick, Trailside Organic Farm Manager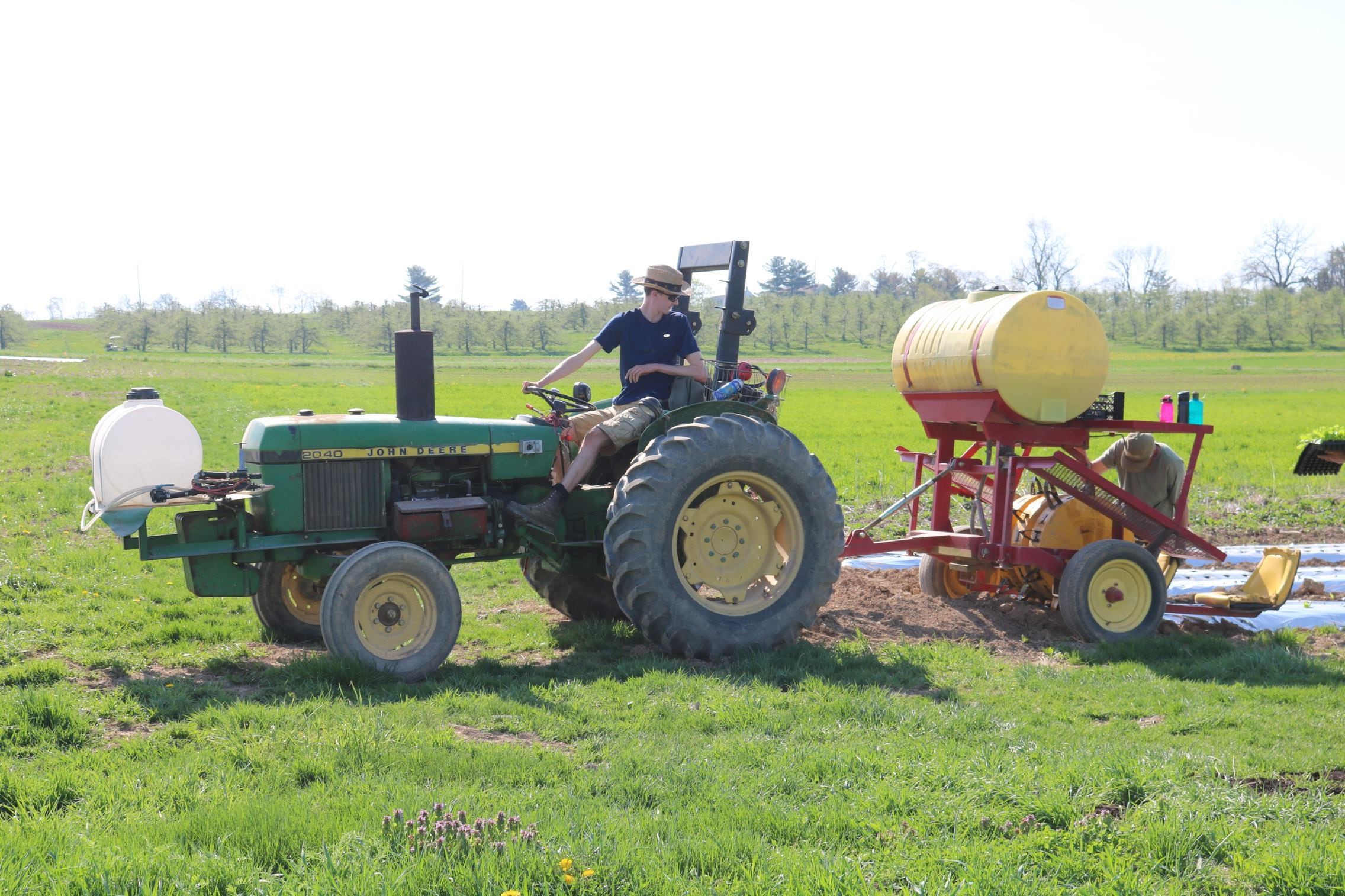 It's called a water wheel transplanter. It saves time and your back!
For friends and family members not in my line of work, that is how I explain my most eagerly-anticipated piece of equipment for the Trailside Organic Farm. While reviewing our 2022 farm plans, the word tiring comes to mind. Bending, planting, making sure rows are straight- these are simple facts of vegetable farming. However, the right equipment can create 'smarter' work. This is why a water wheel is one of the most beloved tools among vegetable growers. Although large, it's wonderfully simple, efficient and versatile. Most of all, it saves time, energy and aggravation.
Yes- this is beginning to sound like a sales pitch- but please allow me one more moment to share some of the standard features of a water wheel transplanter. Two front-facing seats for the transplanting technicians. Three adjustable metal transplanting wheels with adjustable snap-in spikes. A 150-gallon water tank with water injection technology. Two racks for holding seedlings. A hitch for tractor attachment. All of this enticing equipment comes neatly- packaged on a tubular steel frame sitting on steel wheels and pneumatic tires.
Here's how it works. First, the operators must decide the correct spacing in-row and between rows for the crop being planted. The water wheel allows the operators to adjust for both measures. Planting wheels are inserted, spaced and tightened. Up to three planting wheels can be used on the rotating transplanting shaft, and each wheel will create its own row of transplants. Spikes, or dibbles, are snapped into each wheel in a symmetrical, correctly-spaced pattern. These spikes create the holes for seedlings.
One person will drive the tractor. Their job is to keep the rig as straight as an arrow while also communicating with the transplanting folks on the ideal speed to drive. It's more difficult than it looks, I assure you! While driving forward, the transplant wheels spin at the same speed as the tractor wheels. The spikes punch a series of holes in the tilled soil and water pours from the tank into each hole. The transplanting workers will sit in the rear seats, dropping a plant in each hole and covering up the roots with soil. This transplanting procedure can be done in raised or flat beds, with or without plastic mulch. The end product is a series of straight, evenly-spaced, and watered transplants.
The water wheel transplanter is just one helpful piece to the vegetable farming puzzle.