Trailside Organic Farm – June 2022 Update
June 2022
Submitted by Ian Frederick, Trailside Organic Farm Manager
Spring is transitioning to summer, and the Trailside Farm is transitioning to peak summer production. I have a question for everyone reading: When it comes to summertime gardening, which crop do you think of first? For me, I think of tomatoes. A sweet, tangy, and crisp home-grown tomato cannot be beat.
You may notice that the hoop house is no longer producing lettuce and greens, but instead cherry tomatoes are now thriving inside. Unlike greens, tomatoes love the heat. A bonus to growing cherry tomatoes in the hoop house are the beams and arches that frame the structure. These make a perfect framework for trellising our indeterminate cherry varieties. What does this mean? Indeterminate tomato plants will continuously vine upward, grow new shoots, flower, and produce more fruit. They require pruning and trellising to grow properly, as well as plenty of space. In contrast, determinate tomato plants are ideal for field growing. Due to their bush-like nature, trellising and pruning are often not required. Although determinate tomato varieties are sometimes preferred for their ease of maintenance, their yields tend to occur in one short burst. Indeterminate tomatoes provide a steadier and longer-lived crop, albeit harvest quantities tend to be smaller.
At the farm, our field-grown tomatoes will be mainly determinate varieties, but we will be making multiple plantings to continue to get a crop into the fall season. We'll be focusing on growing red beefsteak and paste tomatoes in the field, and a variety of brightly colored cherry tomatoes in the hoop house.
You may ask: besides tomatoes, what else will we be growing at the farm this summer? Here are some other crops which you will find here in the ground: eggplant, peppers (bell, sweet), onions, scallions, leeks, broccoli, cauliflower, cabbage, a variety of squash, cantaloupe, watermelon, sweet corn, potatoes and sweet potatoes, a variety of fresh herbs, kale, pumpkins, gourds, cut flowers, and ornamental corn.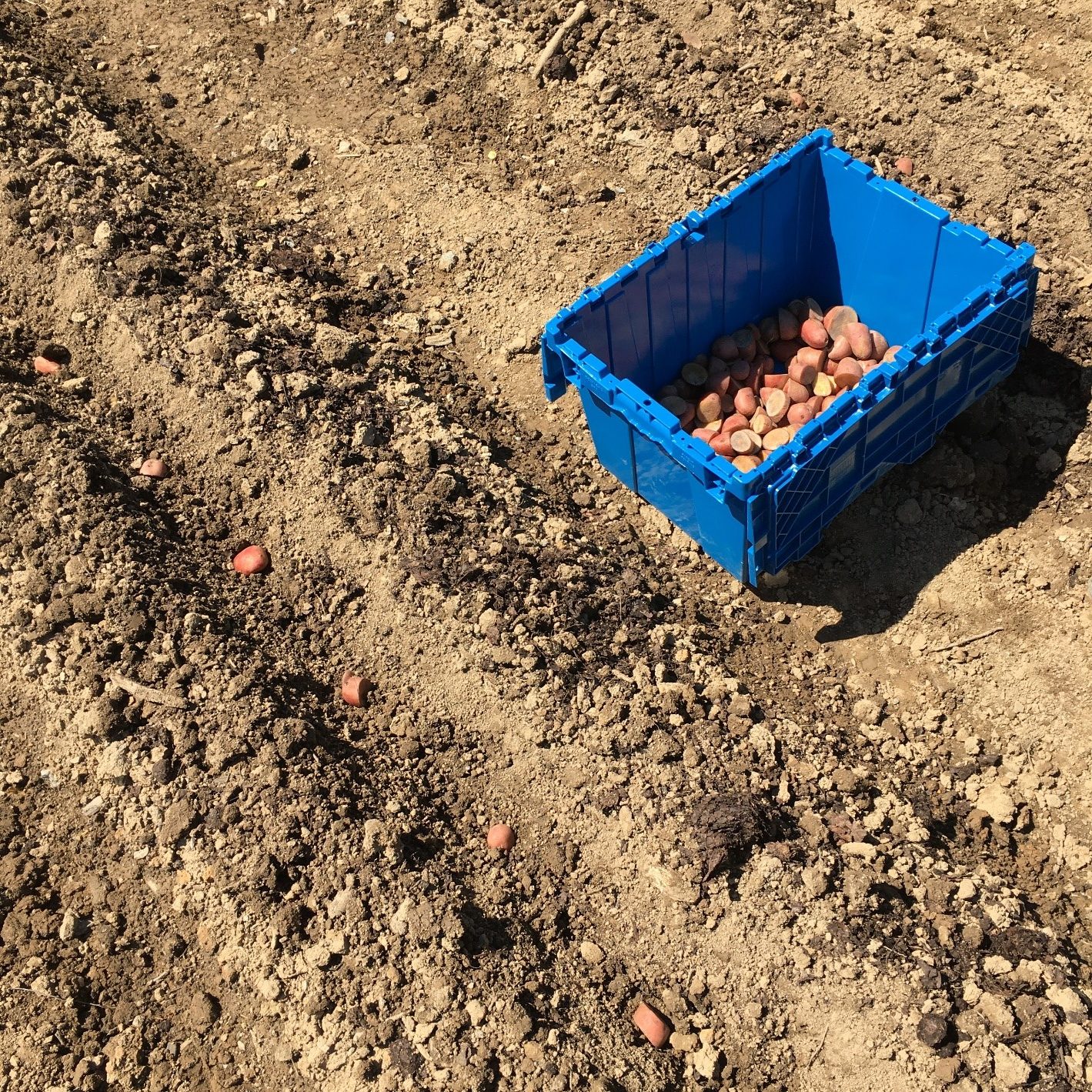 Before wrapping this article up, I'd like to thank all residents and employees who continually support the Trailside Farm. The community here at Cornwall Manor makes this project possible. Positivity, helpfulness, and eagerness to learn are always evident here! The very first farm market at the end of April was a success. We also hosted a variety of workshops during the month of May, including one on seed potatoes and composting.
Seed potatoes are planted 10-12" apart in furrows with eyes up following the May 3 workshop.