Cornwall Manor Awards Two Scholarships
Aug. 17, 2020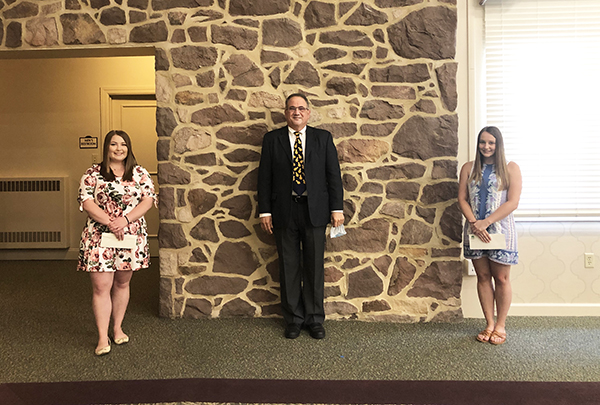 Cornwall Manor's Ralph L. Weik Memorial Scholarship Fund, which provides scholarships to Cornwall Manor employees and their families, awarded two scholarships during a socially-distant reception held on August 14.
The Weik Scholarship Fund was established in 1991 and honors the memory of Ralph L. Weik, a dedicated maintenance employee with 27 years of service. Cornwall Manor residents who are retired educators comprise the selection committee that reviews scholarship applications and selects two recipients annually.
The scholarship recipients are:
Rachael Hocker, Lebanon, graduated with honors in 2019 from Lebanon High School. During her time at Lebanon High, she was involved in Student Council for three years. During her senior year, she volunteered with the Breast Cancer Coalition. That led to visit at the State Capitol to address legislatures about passing multiple bills to help women with breast cancers and survivors. She was also invited to the Governor's Mansion to have lunch with the founder of the Breast Cancer Coalition, Pat Halpin-Murphy. During her senior year, she also interned at Henry Houck, which is her previous elementary school.
She currently attends Millersville University and will be a sophomore this coming fall. Rachael has a dual major in special education and early childhood education. Rachael plans to continue her schooling to obtain her doctorate degree in Education, with a future hope and plan to become an elementary school principal and eventually a school superintendent. Rachael's father, David Spancake, is the Assistant Housekeeping Manager at Cornwall Manor.
Rachel Loose, Myerstown, is a 2018 graduate of Tulpehocken High School. She currently is attending Reading Hospital School of Health Sciences for nursing. Rachel is entering her final year of nursing school and expected to graduate in April 2021. Upon completion of the program, she plans to begin working part-time and continue her education to obtain a Bachelor of Science Nursing degree. Rachel would love to work with infants or the pediatric population in a hospital, specifically in a Neonatal Intensive Care Unit. She would eventually like to become a nurse practitioner, after first working as a registered nurse to gain experience. Rachel's mother, Ann Loose, is the Registered Nurse Assessment Coordinator (RNAC) Supervisor.
This year marks the 29th Anniversary of the Scholarship Fund and each recipient was awarded a $2,500 scholarship. The Weik Scholarship Fund has provided over 100 scholarships, totaling over $60,000, for Cornwall Manor employees or their spouses and dependents to assist them with post-secondary education.
Employees and residents participate in annual fund raisers to help build this fund. Thanks to the gifts from residents and employees, the Scholarship Fund contains over $172,000.