Cornwall Manor celebrates Founders Day
Oct. 19, 2017
Cornwall Manor hosted its annual Founders Day event on October 18. The event recognized friends who play an important role in the retirement community's founding as well as those who have supported the Cornwall Manor community through its 68 years of ministry to older adults.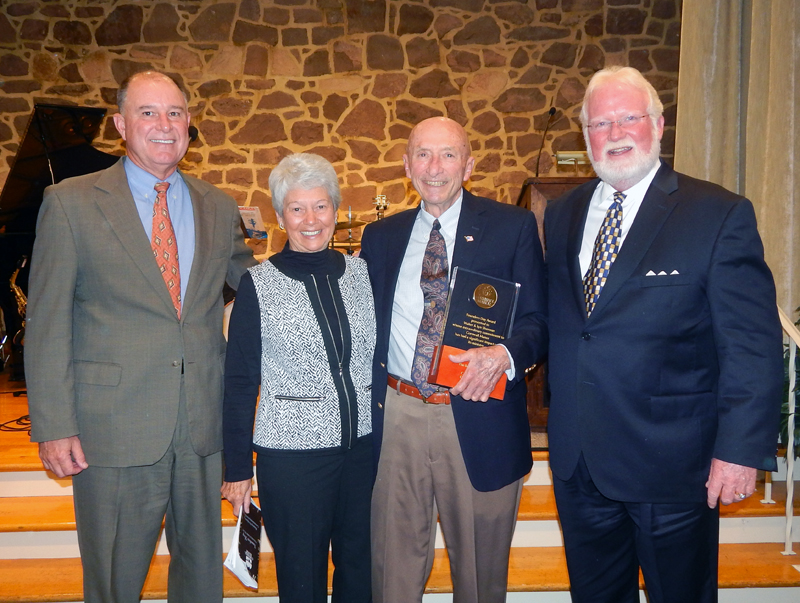 The 2017 Founders Day award was presented to Walter and Lyn Sherman by Cornwall Manor's President, Steven D. Hassinger. The award is presented to an individual(s) 'whose extraordinary commitment to Cornwall Manor has had a significant impact on our ministry.' The Shermans, who retired from real estate sales, moved to Cornwall Manor in 2012 and became active in numerous volunteer efforts. The Shermans were very supportive of Cornwall Manor's capital campaign for a new health center as well as benevolent care for residents with limited resources.
Ellen Arnold, Cornwall Manor Trustee and resident recognized GEM (Give Every Month) donors – George and Betty Conner, Carl and Kathleen Hoffer, Seth and Olive Huisman, Richard and Barbara Ann Monguzzi, Sarah Renda, David Ruth, Anne Shemeta, Diane Thomas and J. Bashore Yorty.
Timothy D. Sheffey, Cornwall Manor Trustee recognized "Legacy Circle" donors, who are acknowledged for naming Cornwall Manor in their will or estate plan. New Legacy Circle donors are Grace C. Brust; Woodrow "Skip" Dellinger, Jr.; Robert and Mary Anne Hoffman;  Kathleen Hoffer; Jennifer Margut and Gail Ross.
Rev. Thomas Maurer, Vice Chair, Cornwall Manor Trustee recognized "Faithful Friends." These donors have supported the community's mission for over 20 years. New "Faithful Friends" who were recognized at the luncheon were Rev. Thomas Bare, Ruth A. Daugherty, Lorraine & James Edris, Nancy C. Funk, Horst Insurance, Robert J. Lillie, and Charles and Tricia Weigel.
The event was sponsored by Arthur Funk & Sons, Inc., Highmark, Weik Capital Management, WellSpan Health, and Woodland Contractors, Inc. Proceeds from the Founders Day event are used to support benevolent care for residents with limited resources – which has been at the heart of Cornwall Manor's ministry for 68 years. In 2016, Cornwall Manor provided more than $1.4 million in benevolent care for residents.