Cornwall Manor Celebrates Founders Day and 70th Anniversary
Oct. 16, 2019
Cornwall Manor hosted its annual Founders Day event on October 15. The event recognized friends who play an important role in the retirement community's founding as well as those who have supported the Cornwall Manor community through its 70 years of ministry to older adults.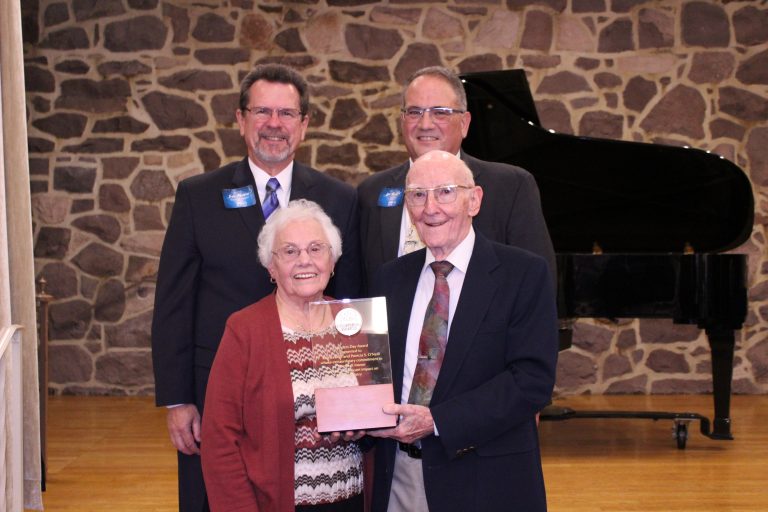 The 2019 Founders Day award was presented to Rev. John D. and Patricia S. O'Neill by Cornwall Manor's President & CEO, Lee A. Stickler. The award is presented to an individual 'whose extraordinary commitment to Cornwall Manor has had a significant impact on our ministry.' The O'Neill's moved to Cornwall Manor in December 2001 and quickly immersed themselves in the Cornwall Manor community through numerous volunteer roles including the Cornwall Manor Society and Residents Association. Additionally, they are both very supportive of Cornwall Manor's ministry through supporting several initiatives including benevolent care and the endowment fund, the new health center and the scholarship fund. Photo on right: Patricia & John O'Neill (front), Rev. Thomas Maurer, Chair, Board of Trustees (back left) and Lee A. Stickler, President & CEO, Cornwall Manor (back right).
Robert Torres, Pennsylvania Secretary of Aging was our guest speaker and spoke about the future of aging in Pennsylvania, a population that is growing significantly and becoming more diverse. Torres was appointed by Governor Tom Wolf to serve as Acting Secretary of Aging on January 5, 2019.
Jeanne Donlevy Arnold, Cornwall Manor Trustee, recognized new GEM donors, William and Winifred Brill and Rev. Diane Pomeroy. These donors make monthly gifts to Cornwall Manor. We are grateful for these supporters who "Give Every Month" (GEM) as every gift makes an impact.
Rev. Thomas A. Maurer, Chairperson, Cornwall Manor Board of Trustees, recognized "Legacy Circle" donors, who are acknowledged for naming Cornwall Manor in their will or estate plan. New Legacy Circle donors are Gerry and Jeanne Boltz, Pauline C. Charles, Bruce and Linda Chadbourne, Dalton* and Jeanette Hunkins, Mervin & Irene Lentz, John H. and Michele Miller and Patrick & Jean Renaud.
Ellen H. Arnold, Cornwall Manor Trustee recognized "Faithful Friends." These donors have supported the community's mission for over 20 years. New "Faithful Friends" who were acknowledged at the luncheon were Charlotte A. Hood and Rev. John and Patricia S. O'Neill.
Cornwall Manor is extremely grateful to this year's Founders Day Event Sponsors – Allwein Carpet One; Arthur Funk & Sons, Inc.; Flyway Excavating, Inc.; Highmark; Hirtle Callaghan & Company; RKL, LLP; Weik Capital Management; WellSpan Health and Woodmasters Custom Cabinetry, LLC. Proceeds from the Founders Day event are used to support benevolent care for residents with limited resources – which has been at the heart of Cornwall Manor's ministry for 70 years. In 2018, Cornwall Manor provided more than $1.5 million in benevolent care for residents.