Cornwall Manor Dedicates New Health Center
Jun. 30, 2016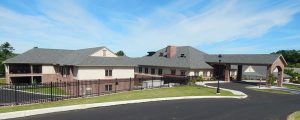 A dedication and ribbon cutting ceremony was held on Thursday, June 30, 2016 at 2:00 PM for Cornwall Manor's new Health Center. The dedication service was led by Bishop Peggy Johnson, Resident Bishop, The Philadelphia Area of The United Methodist Church. This commemorative event follows the conclusion of construction of the final phase of the retirement community's new skilled nursing center.
Ground was broken on June 12, 2014 for the new health center and on December 15, 2015, residents and staff moved into the new building. Phase II of the construction, which is now complete, included the demolition of the former health center, construction of the main entrance into the new health center, a new roadway and parking spaces. Prior to the demolition, furnishings and equipment from the former health center were donated to local and international charities.
The new skilled nursing facility (referred to as the "Health Center") provides "resident focused" care for 96 residents in four households, each with 24 private rooms and private bathrooms. Each household has its own distinct living area with a centrally located lounge/activity area; outside porch or balcony; and kitchen and dining space. The four households are connected to a central core building, which contains the "Betty and George Matthews Therapy Center," "Jeanne and Ed Arnold Community Room and Worship Center", staff offices, a beauty shop and dental clinic, food production area and storage.
The new health center is located on the Buckingham Campus next to the Corson Hall Personal Care facility and the Freeman Community Center, allowing residents and their families to take advantage of the amenities in those areas.
The $18 million building was designed by Beers & Hoffman, Ltd. and the general contractor was Arthur Funk & Sons. A capital campaign raised $6 million for the project.
According to Cornwall Manor President Steven Hassinger, "This beautiful new building allows us to have a living environment that matches the high level of quality care for which Cornwall Manor is known. We are so grateful to everyone who made this addition to our community possible."