Cornwall Manor Partners with Lebanon County Career and Technology Center's Practical Nursing Program
Oct. 07, 2016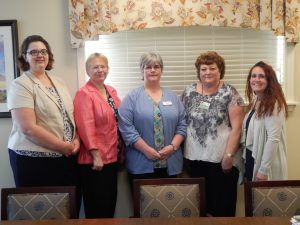 Cornwall Manor Retirement Community and the Lebanon County Career and Technology Center (LCCTC) are partnering to provide practical nursing students with hands-on patient experience at Cornwall Manor's Health Center.
The nursing clinical partnership will begin on October 13 and is a required part of the clinical rotation for LCCTCs' licensed practical nurses. The student nurses will do clinical rotations within Cornwall Manor's new 96-bed Health Center where they will help with patient care, assessments and medication passes. At Cornwall Manor, the students will learn geriatric fundamentals like communicating with elderly persons, dementia, Alzheimer's, what life is like for a nursing home resident and providing quality care.
Cornwall Manor opened their new $18 million skilled nursing facility (referred to as the "Health Center") in December 2015. The Health Center provides "resident focused" care for 96 residents in four households, each with 24 private rooms and private bathrooms. Each household has its own distinct living area with a centrally located lounge/activity area; outside porch or balcony; and kitchen and dining space. The four households are connected to a central core building, which contains the "Betty and George Matthews Therapy Center," "Jeanne and Ed Arnold Community Room and Worship Center", staff offices, a beauty shop and dental clinic, food production area and storage.
Both organizations are looking forward to the partnership. Cornwall Manor's Director of Nursing Sandi Hinkle said, "this is an exciting venture that we are entering with the LCCTC's nursing program. I feel it will benefit both organizations in meeting educational experience for the students and potential employment opportunities for us."