Steven D. Hassinger to Retire as President and Chief Executive Officer of Cornwall Manor; Lee A. Stickler Named as Successor
Feb. 15, 2019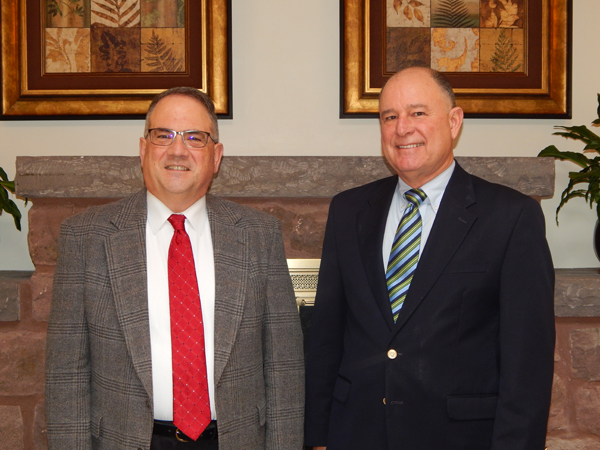 Cornwall Manor Retirement Community has announced that Steven D. Hassinger (right) will retire on March 1, 2019 as President and Chief Executive Officer of Cornwall Manor and Lee A. Stickler (left), Executive Vice President will be appointed as his successor.
"Since we opened our doors 70 years ago, Cornwall Manor has been recognized for providing high quality care and services to more than 2,300 residents," said Stickler. "Steve has done a fantastic job helping create our strategic vision and leading the community during his time here, and I am honored to follow in his footsteps."
Hassinger was hired as Cornwall Manor's Administrator of Health Care Services in December 1978, was promoted to Executive Vice President in 1980 and as Cornwall Manor's fifth President in 1989. Under Hassinger's guidance, he worked with the Board of Trustees and Cornwall Manor's management team to adopt the first strategic plan in 1991, which has resulted in steady growth for Cornwall Manor as well as financial stability. Additionally, Mr. Hassinger has overseen numerous construction and renovation projects including the second phase of Laurel Place apartments; construction of duplex homes on Gatehouse Lane; Buckingham Mansion renovation; addition of wellness center; Woods expansion project including three neighborhoods of new homes and site work in the fourth neighborhood; Carriage House apartments; the new health center and Freeman Community Center renovations.
"Lee has been crucial to Cornwall Manor's growth and overall success," said Hassinger. "He is an exceptional leader who understands the senior living industry and our community of residents and employees. He will take Cornwall Manor to even greater heights. Lee is the best person for the job."
Stickler was hired in November 1988 as the Vice President for Finance and transitioned to Executive Vice President in January 2018. Lee is licensed as a Nursing Home Administrator and a Certified Public Accountant. His background in senior living services began in 1982 with six years in various management positions at a large nursing facility. He also was a charter Board member and the first Treasurer of Cornwall-Lebanon school district's non-profit educational foundation. Lee was selected as a member of the inaugural class of Leadership Lebanon Valley, a program of the local Chamber of Commerce created to develop future community leaders. He previously served as a program instructor for future nursing home administrators through Millersville University. Lee was also an initial board member of a national long term care insurance advisory council and chaired the council for its first four years.
Curtis J. Walizer, Chairperson, Cornwall Manor Board of Trustees, said, "Steve has been a remarkable leader for Cornwall Manor's growth and overall success. His temperament and innovative thinking, compassion for the residents and employees of Cornwall Manor and his strong understanding of the senior living industry have defined his tenure. On behalf of the Board of Trustees, we thank Steve for his dedicated 40 years of service to Cornwall Manor and wish him the very best in his retirement."
Mr. Walizer continued, "The Board of Trustees are confident with the appointment of Lee Stickler as Steve's successor. Lee will continue to lead Cornwall Manor as a premier senior living community in Central Pennsylvania. His dedication, experience and effective management skills will be critical strengths as he leads the community in the years to come."