Cornwall Manor Inducts New Legacy Circle Members
Jul. 13, 2016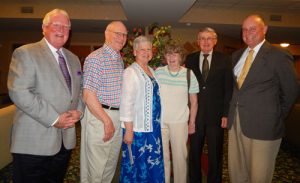 Five people were inducted into Cornwall Manor's Legacy Circle at the annual Legacy Circle Dinner on July 13 by Curtis J. Walizer, Chairperson of Cornwall Manor's Board of Trustees and Steven D. Hassinger, Cornwall Manor President. The Legacy Circle is a recognition society for those who have named Cornwall Manor in their will or estate plan.
New 2016 Legacy Circle donors are Mr. Frederick & Mrs. Judith Borger, Mrs. Diane Griffiths and Mr. Robert & Mrs. Sandra Johnson.
These "legacy" gifts have been designated by donors for everything from the Endowment Fund for Benevolent Care to the Future Fund for the new health center to capital items such as trees; activity programs for Health Center residents; and for general purposes. Over the past 20 years, more than $15 million has been given to Cornwall Manor through charitable bequests in wills.
President Hassinger said, "we are extremely grateful for these planned gifts to Cornwall Manor. Providing care and compassion has been at the heart of our mission for 67 years and the thoughtful planning for the future needs of Cornwall Manor's residents will help us continue our very worthwhile mission."