Personal Care for Seniors in Lebanon (near Lancaster and Hershey, PA)
Personal Care at Cornwall Manor is a special combination of independence and personal attention to help residents through each day as their needs may change. Cornwall Manor's staff focuses on providing quality care, and this is recognized through consecutive years of deficiency-free inspections from the Pennsylvania Department of Human Services.
A personal care community in Central Pennsylvania provides supplemental health care services, meals and supervision or assistance with personal hygiene and daily activities.
Individuals who may need assistance with bathing, dressing, meals, medication monitoring, etc. can receive two levels of services in personal care at Cornwall Manor depending on need. Examples of level two care can include additional services like treatments, wound care, oxygen management and breathing treatments, etc.
There are three types of personal care accommodations available at Cornwall Manor, ranging from studios to alcoves to suites. Residents enjoy activities, events and socialization, and receive three meals a day as well as housekeeping, maintenance and pastoral services. No entrance fee is required. Cornwall Manor's personal care building, named Corson Hall, is connected to the Freeman Community Center and Auditorium, providing easy access for residents to attend events. Corson Hall is licensed at 30 accommodations, allowing our personal care to focus on the needs of each resident.
If someone needs additional support services they cannot receive at home, moving into a personal care community may be the best choice. Personal Care also provides the security and safety of access to 24/7 nursing care. Superior personal care communities for seniors like Cornwall Manor actively encourage independence by developing personalized plans tailored to meet the unique needs and specific disabilities of all residents.
Services Provided at a Personal Care Senior Community in Central PA
Cornwall Manor's personal care community offers the following: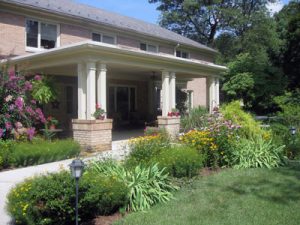 Trained staff to assist residents with memory loss and cognitive impairment
Housekeeping services
Wellness and exercise programs
Fresh meals made daily onsite
Transportation services
24/7 security
Recreational and social activities
Access to comprehensive health and medical services and programs
Personal Care 2020 Level 1 Daily Rates:
Studio (private room with powder room or full bath)
$127 – Single occupancy
Alcove (living room, bedroom with full bath)
$207 – Single occupancy
Suite (separate living/bedroom areas with full bath)
$223 – Single occupancy
$300 – Double occupancy
Personal Care 2020 Level 2 Daily Rates: Additional $36/day

Availability of services is subject to change.
For more information about Personal Care or to arrange a tour, please contact our Health Care Admissions Coordinator at 717-675-1554.
Cornwall Manor's personal care facility is licensed by the Commonwealth of Pennsylvania's Department of Human Services.