Individuals who live at Cornwall Manor have access to our on-site Visiting Physicians Office (VPO). The office is conveniently located on the Buckingham Campus and is an essential piece of the campus health services offered. The VPO handles a variety of medical services right on our campus, and includes a campus nurse, several physicians, a medical director and a secretary.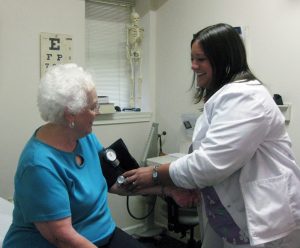 A Campus Nurse is available to coordinate and supervise health services for campus residents and monitors a resident's progress following hospitalization. The Campus
Nurse also sees residents for vital sign checks, blood pressure screenings, immunizations, lab tests, wound dressings, injections and she assists physicians who hold office hours at the VPO. The Campus Nurse serves as the link between residents, families, physicians and the Cornwall Manor Health Services staff.
Physicians from Lebanon Internal Medicine Associates (LIMA) and Lancaster General Health/Penn Medicine see residents at the VPO. Dr. R. Scott DeLong from Lancaster General Health/Penn Medicine Physicians Geriatrics is Cornwall Manor's Medical Director. Physicians have office hours here on weekdays and nursing staff are on-site in the VPO seven days a week from 8 AM to 4 PM.
Routine medical needs and annual physicals can be scheduled at the Cornwall Manor VPO, and transportation to off-campus medical appointments is also available.
The VPO also offers pharmacy services available six days a week, with one day turnaround time for routine medications; blood pressure screenings, immunizations and lab tests.