Skilled Nursing Care in Central PA
A Skilled Nursing Facility, commonly referred to as a nursing home, is a licensed healthcare facility that offers 24/7 nursing care, social and educational activities, and rehabilitative services and is inspected and regulated by the Pennsylvania Department of Health.
Cornwall Manor offers the following skilled nursing care services:
Short-term rehabilitation/physical therapy to help seniors regain their speech and motor functions
Custodial care for people who need help eating, bathing and dressing
General care for wounds that require dressing changes, cleaning and antibiotic administration
Skilled nursing care for residents with serious illnesses, injuries or infections
Family members choose skilled nursing facilities when loved ones require around-the-clock professional nursing care, constant supervision due to Alzheimer's or dementia, assistance with personal hygiene and meals and help taking medications properly.
At Cornwall Manor, we understand how important it is that you are certain you've found the right place for a loved who needs skilled nursing care. Your concerns are our concerns, and we strive to provide everything necessary to ensure our residents' physical, social, spiritual and emotional needs are met with empathy and compassion. Our powerful commitment to quality care is why Cornwall Manor's skilled nursing care in Central PA is considered among the best in Pennsylvania.
2017 Skilled Nursing Care Daily Rate:
$354 – Private room
Availability of services is subject to change.
Visit Our Skilled Nursing Facility Near Lebanon, Lancaster and Hershey, PA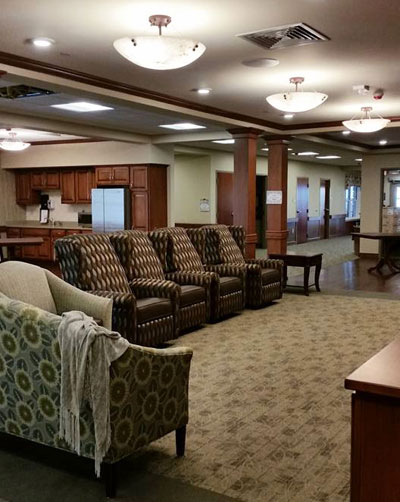 Cornwall Manor is recognized for our high quality of care, and our new resident-focused health center provides an environment which matches that quality. There are 96 private rooms with private bathrooms in four households. The households provide a residential setting, and include a kitchen/dining area, living room area, activities/crafts area, and outdoor courtyards and covered porches or balconies. Short-term or long-term physical, occupational and speech therapy services are available. Pastoral services, a beauty shop, dental clinic and a community room/worship center are also located in the Cornwall Manor Health Center.
For more information about Skilled Nursing Care or to arrange a tour, please contact our Health Care Admissions Coordinator at 717-675-1554
The Health Center is Medicare and Medicaid certified.