Campus Renovations
The Cornwall Manor Board of Trustees approved a campus master plan that will include renovations to the Freeman Hall Community Center as well as other buildings on campus. The project, which is planned to begin in spring 2017, is a result of input and planning on the part of staff and residents to improve current amenities and add some new ones.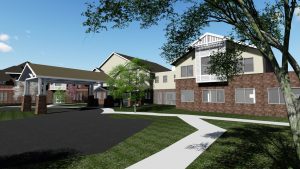 As of May 8, 2017 – exterior construction to the front and north side of the Freeman Community Center has begun. The entrance into the Wellness Center from the fountain area will be closed. Please use the main entrance to the Community Center or the entrance into Bradley.
As of May 1, 2017
Renovations to the second floor of Freeman have begun
The Central Penn Home Health office has moved to a new space in the VPO waiting room
The Campus Housekeeping Manager's office is now located on the first floor of the Freeman Community Center
Campus Therapy has moved to the Laurel Place Activity Room (first floor)
Table Tennis has moved to the Woods' Treehouse (207 Creek Drive)
The Seamstress has relocated to the CMTV Room (on the first floor of Laurel Place, next to the Activities Room)
Changes to the Community Center and Wellness Center include:
new Community Center entrance
a relocated and enlarged gift shop
a new reception and mail area
new restrooms
redesigned Manor Café
expanded game room/ "Club Room"
relocating and building a new visiting physicians office on the second floor
addition of a second elevator
relocating and expanding the outpatient therapy area
relocating and enlarging the beauty shop
relocating the Administrative and Resident Services staff to the second floor of the Community Center
relocating the Marketing/Development/Public Relations staff to the first floor of the Community Center.
Other aspects of the campus master plan will be:
demolishing two wings of the current administration building, and keeping the current board room and adjacent rooms for the relocated "Campus Collectibles"
upgrades to the greenhouses and brick boiler house
converting a storage area in the lower level of Laurel Place to a new resident theater/meeting area
converting the current "mule barn" (former home of the maintenance shop) to space for the Woodshop and the model railroaders
upgrading the Manypenny Recreation Room
We are excited to begin this new project- and ask your patience as it progresses. We will be providing updates on this webpage and through other means to our residents, employees, families and friends.