Lee A. Stickler to Retire as President and Chief Executive Officer of Cornwall Manor; Harry A. McConnell Named as Successor
Oct. 10, 2022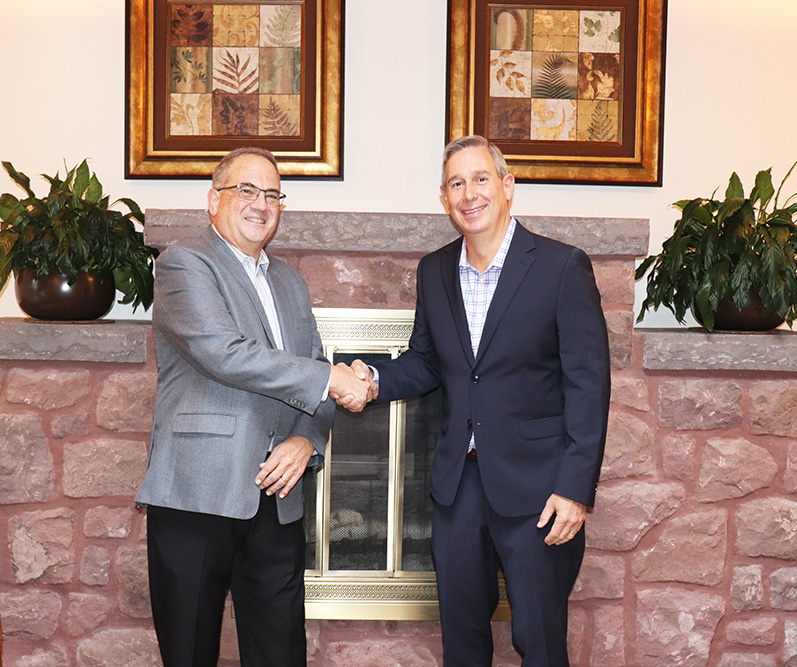 Cornwall Manor Retirement Community has announced that Lee A. Stickler is retiring as President and Chief Executive Officer of Cornwall Manor and Harry A. McConnell, has been appointed as his successor effective October 3, 2022.
"Since we opened our doors 73 years ago, Cornwall Manor has been recognized for providing high-quality care and services to more than 2,500 residents," said Timothy D. Sheffey, Esq., Chairperson, Cornwall Manor Board of Trustees. "Lee has done a fantastic job helping create our strategic growth as well as spearheading many financial and operational successes, including the most challenging years we have experienced to date due to the Covid pandemic."
Lee Stickler announced in January 2022 his intent to retire this year. The senior living community's sixth president, he came to Cornwall Manor in November 1988 as the Vice President for Finance and transitioned to Executive Vice President in January 2018. Lee is licensed as a Nursing Home Administrator and a Certified Public Accountant. His background in senior living began in 1982 with six years in various management positions at a large nursing facility. He has been an active volunteer in various roles with the Cornwall-Lebanon School District and the Lebanon County Career and Technology Center. Lee previously served as a program instructor for nursing home administrator candidates through Millersville University. He was also an initial board member of a national long-term care insurance advisory council and chaired the council for its first four years. In addition, Lee was appointed to the state licensing board for Nursing Home Administrators serving for five years, eventually as Vice Chairperson. In March 2019, Lee transitioned to the role of President and CEO.
"We are extremely grateful to Lee for his nearly 34 years of outstanding leadership and committed service to Cornwall Manor. On behalf of the Board of Trustees, residents and staff of Cornwall Manor, we all wish Lee the very best in his retirement," stated Sheffey.
Harry began as Cornwall Manor's seventh President and Chief Executive Officer on October 3, 2022. He was the Executive Director of Normandy Farm Estates, a faith based not-for-profit retirement community in Blue Bell, Pennsylvania. Additional experience includes 25 years with Peter Becker Community in Harleysville, Pennsylvania, where he received successive promotions culminating in the Chief Operating Officer position. Harry also has served as an adjunct professor for Gwynedd-Mercy College since 2004, where he leads courses in Healthcare Administration, Healthcare Delivery Systems, Healthcare Financial Management and Legal and Ethical Issues in Healthcare. He holds a bachelors degree in business administration from Stockton State College and an MBA from De Sales University, and is a licensed Nursing Home Administrator.
Mr. Sheffey continued, "we are confident with the appointment of Harry McConnell as Lee Stickler's successor. Harry has a proven track record of strong leadership and effective management skills, has great energy and outstanding operational results which will be critical strengths as he leads the community in the years to come."