The Bells are Ringing at Cornwall Manor
February 2017
Every morning at 9:00 AM, the sounds of the electronic carillon can be heard from Zerr Chapel on the Buckingham Campus. It announces the time and plays several hymns, seasonal, or patriotic songs. This happens again at 12 noon, 3 PM and 6 PM. Is this unique to Cornwall Manor, how did it come to be, and who operates it?
When the chapel was built in 1959, it had an an electronic carillon, but the technology of the mid-century was less than perfect and it was not used regularly. Manor resident Grace Tom and her late husband Joseph came to the rescue in 1996 with the gift of a new carillon.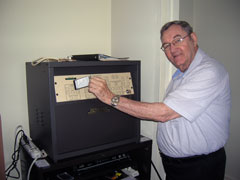 Manufactured by the Schulmerich Company of Sellersville, PA (they also make conventional bell carillons and hand bells), the electronic carillon works much like a computer. The prerecorded music is stored on dozens of credit card size cards that hold 12 songs each. A card is inserted in the slot on the front of the unit. Then operator, Zerr Chapel organist and Manor resident Dave Ruth (pictured at right), selects the music and when it will play. There are three loudspeakers mounted on the chapel roof that broadcast the music throughout the Buckingham Campus — just another reason that makes Cornwall Manor so unique as well as a beautiful way to start and end the day.
This blog post was written by Cornwall Manor resident James Weaver. James and his wife, Barbara, have been residents since 2009.