Chestnut Trees come home to Cornwall Manor
June 2017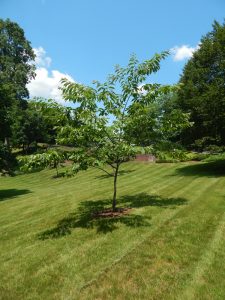 The American Chestnut was once the most important food and timber trees species in the Eastern hardwood forest. It was almost completely destroyed by a bark fungus accidentally introduced from the Orient in 1904. Within 40 years, over 30 million acres of chestnut trees were killed from Maine to Georgia and west to the Mississippi. This tragedy was arguably the largest ecological disaster in American history.
In the early 1950s, a large living American Chestnut – with no evidence of blight infection – was discovered. Nurserymen began to propagate this tree. Over the next several years, attempts were made to infect the offspring seedlings with blight which also proved to be resistant indicating that resistance in the original tree had been passed on to the offspring. In 1962, seedling trees (Dunstan American Chestnuts) began to bear. The trees have been growing and bearing every year for almost 50 years! The blight-resistant Dunstan Chestnuts make possible the re-establishment of chestnut trees and chestnut orchards in America.
Cornwall Manor's setting spanning over 190 acres and our love for nature makes us an ideal place to welcome the chestnut trees. Many of you know that the Cornwall Manor campus is a beautiful setting filled with trees, walking paths and scenic views. Cornwall Manor's Tree Interest Group has been planting trees in honor of Arbor Day for the past 32 years as well as individuals planting trees in honor or memory of loved ones – since Cornwall Manor's establishment in 1949.
The idea to purchase chestnut seedlings from the Chestnut Hill Tree Farm in Alachua, Florida, was introduced by Cornwall Manor resident Reynolds Ferrante. Cornwall Manor purchased four three-foot seedlings. When the dormant seedlings arrived, Cornwall Manor resident Cecilia Haberzettl cared for them at her Woods home until ready for planting. Sites were selected for planting, soil testing was done for drainage purposes and the trees were planted on the main campus and at the Woods in the spring of 2012.
After planting, the maintenance staff took care of watering them and putting tree guards around the trunks. Members from the Tree Interest Group took care of spraying the trees for deer resistance. The Chestnut Hill Tree Farm stated that the trees should start growing chestnuts within three to five years and 2017 marks the fifth anniversary of when the trees were planted at Cornwall Manor. We are hopeful that the trees will flower and produce chestnuts this year. Stay tuned for updates!
With the combined effort of so many Cornwall Manor residents and staff, we all look forward to seeing the success of the chestnut trees growing here at Cornwall Manor and to share them with generations to come.