Meet the Chadbournes
July 2020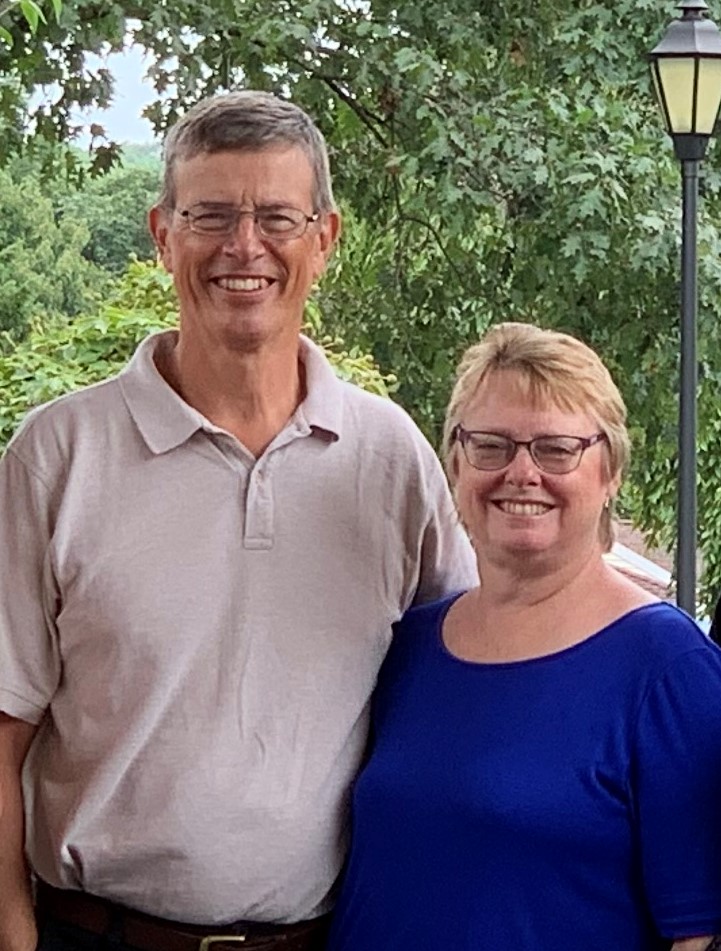 Bruce and Linda Chadbourne relocated from Florida to Cornwall Manor in 2018. They chose Cornwall Manor for its ambience, history, opportunities to serve and proximity to their family. It didn't take them long to get settled into their Woods home and become immersed in the Cornwall Manor community.
The couple met in New Hartford, New York, where they both graduated high school. They kept in touch when they went to college. Bruce attended Union College but then transferred to Cornell for Navy ROTC, where he completed a chemistry degree. Linda received her accounting degree from SUNY Broome. They married in 1978 and expanded their family to include a daughter, Lisa and a son, Rob. Linda raised the family while Bruce's Navy position took him all over the world and included specialized trainings for various missions.
Linda has always had a passion for music. She began taking piano lessons at the age of 10 and later became a private piano teacher. After her father passed in hospice care, she became a hospice volunteer and took the Music for Healing and Transition Program. She became a Certified Music Practitioner, providing therapeutic music from neonatal to end-of-life. Upon arriving at Cornwall Manor, she connected with the Health Center to provide therapeutic music for residents and for Sunday chapel services. Linda also serves as a Shoppe on Wheels volunteer in the Health Center.
After Bruce served as an officer in the Nuclear Navy, the family moved to Syracuse where Bruce worked for GE Aerospace/Anti-Submarine Warfare Programs. Ten years later they relocated to New Hampshire where he continued in defense system engineering for Lockheed Martin. In 2000, he became self-employed, teaching project and risk management for universities and business clients around the world. His love of history connected him with the Cornwall Iron Furnace, which is directly across the street from Cornwall Manor. The centerpiece of Cornwall Manor's campus is the historic Buckingham Mansion, which was home to many generations of the Coleman family, who owned and operated the Cornwall Iron Furnace before Cornwall Manor was established in 1949 as a retirement community. Bruce volunteers once a week giving tours at the Furnace and was named "Volunteer of the Year" in 2019. He helped catalogue Furnace letters and artifacts as well as assisting at Cornwall Manor to digitize historical photos with resident Henry Deemer. A true engineer at heart, Bruce enjoys electronics as well as designing gadgets on his 3D printer and wood-carving machines – a hobby which his son, Rob, introduced him to. Bruce made 50 money mazes (a tube-shaped puzzle that you have to solve in order to reveal your money gift) and donated them to the Cornwall Manor Society to sell at their November craft sale. More recently, Bruce made and donated ear savers to Cornwall Manor's frontline workers wearing masks during the pandemic.
In addition to Linda's love for music and Bruce's interest in history, both have a strong connection to the ministry opportunities at Cornwall Manor. Bruce served as the chaplain's assistant while in the Navy and both have served in ministry in the capacities of worship, music, church leadership and senior care. Bruce and Linda serve as Caring Friends and they assist Cornwall Manor's chaplain with Sunday services in the Health Center and Zerr Chapel. While services could not be held in the chapel during the pandemic, Bruce filmed, edited and produced videos of worship services that were shown on Cornwall Manor's television channel.
In their spare time, both Linda and Bruce enjoy the swimming pool, billiards and their four grandchildren. We are very pleased to have Bruce and Linda as part of the Cornwall Manor community and to be the recipient of their many talents.