Resident Profile: Meet the Watkins
January 2023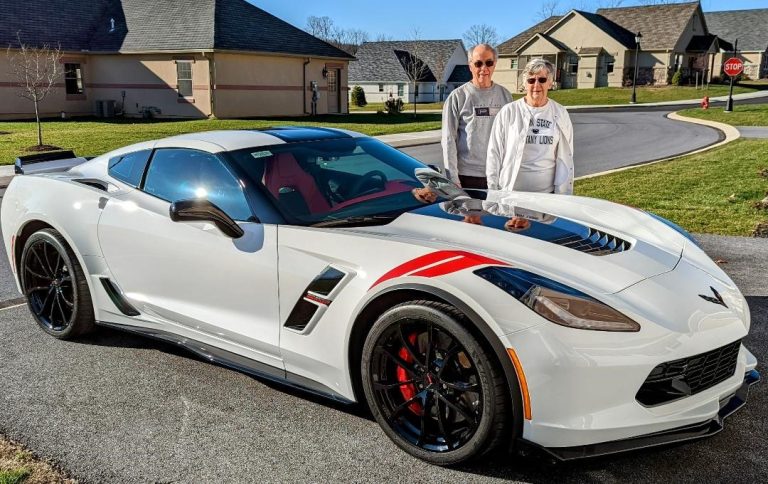 Interviewed and written by Resident Debbie Tice
Many of their Cornwall Manor neighbors refer to Carol and Larry Watkins as "the Corvette People" for reasons which will become obvious later.  Keep reading for a tale of mystery, detective work, coincidence, and the alignment of the stars in the Corvette universe.
First, some background:  Larry and Carol met shortly after Larry graduated from college.  He was managing a Harrisburg area restaurant and Carol worked for an equipment company which supplied his restaurant.  They married and after several years in an apartment near Harrisburg, they bought a house in South Hanover Township, near Hershey. There they raised two daughters and lived for the next forty years, before moving to their home in the Pines.
Larry earned his MBA from Penn State during the early years of their marriage and worked in banking.  He likes to say that he had four careers without ever changing companies, as his responsibilities shifted several times during his tenure with the same bank.  He retired officially in 2016, but in 2019 his former boss asked him to contribute his expertise to a "temporary" project.  Three years later, he is still working part time from home because, as he says, he loves his boss, the clients, the mental stimulation, and "They pay me to do something I really enjoy."
After her marriage, Carol worked in billing and scheduling at the front desk of a dental office.  After raising her two daughters, she began a job she truly loved at Harrisburg International Airport in customer service.  Carol enjoys helping people, so tracking down lost luggage and assisting with travelers' problems was a perfect fit.  She once helped a distraught bride recover her wedding dress, left hanging in a plane, minutes before it departed for its next destination.  The bride couldn't stop hugging her!  For Carol, outcomes such as this were among the most gratifying aspects of the job.
Over their years together, Larry and Carol pursued their lifelong interests: philanthropy, Penn State football, the Hershey Symphony, and Rotary, among others, but they had to put one, their passion for Corvettes, on the back burner for a while.  Both are self-described motor-heads and Larry had wanted a Corvette from the moment he saw his first one in the mid-1950s, thinking, "This is the coolest car I've ever seen, and one day I'm going to own one."  Before marrying Carol, he bought a brand-new dark green 1969, a dream come true!  A few years later, though, life and marriage intervened.  With children and a mortgage looming, owning an expensive sports car wasn't practical.  With great regret, they sold the '69 Corvette.  Larry never forgot that car, though.  He always wondered about its fate, and for years he even had a recurring dream that he still owned it.
After their daughters had graduated college and were out on their own, Larry and Carol finally felt free to indulge their Corvette obsession.  They bought a mint-condition 1992 in 2000, joined the local Corvette club, and ultimately purchased five more throughout the next two decades. Still, Larry couldn't get that first one out of his head.  He and Carol became consumed with finding it, and their obsession infected their daughter and son-in-law.  Larry had kept all the original paperwork, so his son-in-law, who lives in Florida, employed his skills as a former undercover police officer to assist in the search.  At first the trail was cold, and it seemed that the car had probably ended its life in the junk yard.  They were losing hope when incredibly, their son-in-law tracked it to the last ownership in Pennsylvania, a dealer in Media, where, by a stunning coincidence, he had worked after graduating from high school!  The owner remembered the car. He had bought his brother's dealership, which included the '69 Corvette.  The car had gone to auction in Manheim, and a dealer in Rhode Island had bought it.  Against all odds, the dealer still had it in his private collection and was willing to sell it.  On a beautiful October day in 2013, Larry and Carol drove to Rhode Island to determine if it was truly their beloved '69.  Everything checked out and it was in surprisingly good condition.  They bought it in November, had it brought to their local dealer for minor repairs and restoration, and appropriately, on Christmas Eve it was delivered to their home, 42 years after they had parted with it!
The truly beautiful conclusion to this story occurred last year.  After enjoying their rediscovered car for nine years, Carol and Larry decided to give it to their daughter and son-in-law who were so instrumental in its recovery and who cherish it as much as they do. The car truly has nine lives, because although their Florida home sustained some damage from Hurricane Ian, the Corvette came through unscathed.
In 2020, shortly before moving to Cornwall Manor, Larry and Carol also donated a limited edition 1996 Grand Sport (#931 of 1000) to the Corvette Museum in Bowling Green, Kentucky.  Car buffs can view the ceremony, delayed a year due to COVID, on YouTube.
The Watkins have settled happily into their home at Cornwall Manor with their rescue kitties, Catie and Cody.  There is only one Corvette in their garage now, a stunning one-of-a-kind 2017, which they watched being custom-built for them in the factory.
They are still very active in the Corvette club, Rotary, and the philanthropic interests they have always quietly pursued, including scholarships and other charitable programs.  With their generosity of spirit, friendly nature, and unique interests, they fit perfectly into the Cornwall Manor community.