Sew Essential
February 2021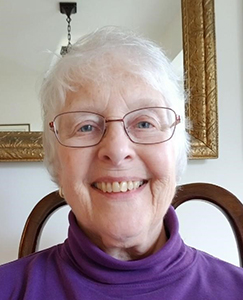 Racks of bright colored and patterned fabrics line the walls in the finished basement of Cornwall Manor resident Pauline Charles' Gatehouse Lane duplex. She transformed the finished basement into her "Quilt Studio" when she and her late husband, Dick, moved to Cornwall Manor in 2014. It's a place she has spent a lot of time since the Coronavirus pandemic changed our lives in March 2020.
Soon after the pandemic began, a plea was put out for cloth face masks to slow the spread of the virus. Many residents, including Pauline, got to work. "I started making masks on April 1." Using her own inventory of fabric, she made 60 masks that were given to Cedar Crest High School, Wellspan Health, a pediatric office, Cornwall Manor and their VPO, family, friends and friends of friends. She gave fabric to people who ran out, she repaired the elastic loops and nose piece when they wore out. Pauline also made many custom masks. Some people didn't like the elastic loops, so she made ties. She also did children sizes and adults with larger faces. She specialized in seasonal prints and special requests. People brought her fabric and she made masks. As of March 12, 2021, Pauline has made a total of 780 masks and 475 of those have benefited Cornwall Manor.
Pauline's fondness for sewing began at a young age. She began knitting at age six, followed by needlepoint at 11. "When I was 11, I couldn't go to summer camp because of a broken arm. I bought a pattern to make a doll's dress and I taught myself." She also taught herself how to sew. "Our school didn't have Home Economics." Eventually knitting, needlepoint and sewing led to quilting in 1992.
In Spring 1992, Pauline took her first quilting class and she joined the Lebanon Quilt Guild. When the Quilt Guild show started at the Lebanon Expo Center 14 years ago, Pauline was in charge of Demonstrators for the event. The November show included demonstrators showing technique, craftsman showing their work and outside vendors. The 2020 show, like many other events, was cancelled due to the ongoing pandemic.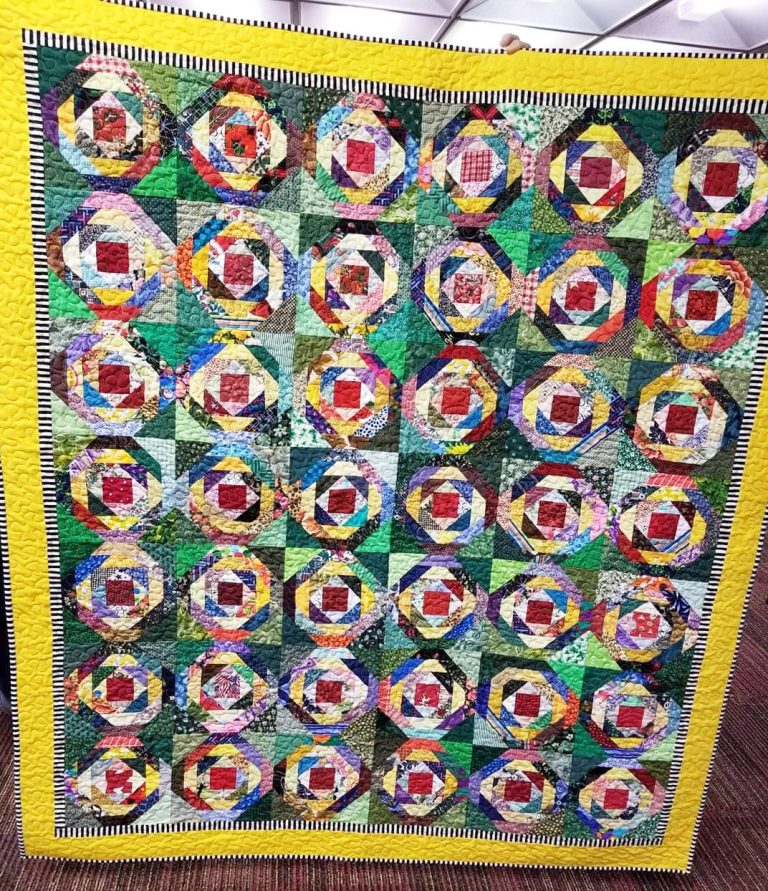 While Pauline has been cutting, pleating and sewing hundreds of masks over the last ten months, she saved all of her fabric scraps by cutting them into 1 ½" strips and putting them into a box for a special project that took her six weeks to complete. She used all of her mask scraps to make a quilt using a pineapple quilt using Gyleen Fitzgerald's pattern. Similar to courthouse step patterns, pineapple quilts are a variation of the classic log cabin quilt block. What gives pineapple blocks their distinct look are their angles, although they are constructed similarly to log cabins: with a square center and strips, along with triangles, radiating outward.
Pauline's "Covid Quilt" measures 54" x 62" and incorporates all of the mask scraps she saved and it is representative to the color-code chart that Pennsylvania used to reopen each of it's 67 counties following the state-wide shutdown.
On the quilt, each 8-inch block's center is red, a color used to represent where we all began when the state shutdown. The third-round is yellow, which signifies proceeding with caution and the sixth-round is green, which indicates the end of the shutdown. However, as the pandemic still continues, it is interesting to note that the border of the Covid quilt is yellow. We still must be cautious and careful.
Pauline notes that she is grateful to Ann Davis, a member of the Lebanon Quilt Guild, who has a longarm sewing machine service. Longarm quilting is the process by which a longarm sewing machine is used to sew together a quilt top, quilt batting and quilt backing into a finished quilt.
Doing what she loves the most – quilting – has kept her sane during the pandemic. Her goal was to make as many masks as she can because she loves to help people. "I'm blessed with what I have and I am happy to share with others."
We are blessed to have Pauline as part of the Cornwall Manor family.
Blog updated March 12, 2021