Trees of Life
April 2018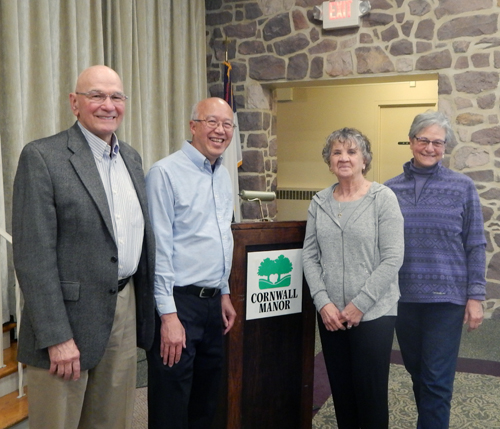 Cornwall Manor, nestled on 190 acres of colorful gardens and wooded grounds, is a unique and charming place to live. Our beautiful, wooded campus sets Cornwall Manor apart from other senior living communities. Trees are very important to Cornwall Manor – so much that we incorporated trees into our logo.
Cornwall Manor has a resident Tree Interest Group that is interested in the history, preservation and repopulating of the trees on Cornwall Manor's campus. The group sends a recognition certificate to any donor who plants a tree. The Tree Interest Group also plans and selects the tree for the annual Arbor Day ceremony.
This year marked the 33rd annual Arbor Day celebration at Cornwall Manor and a Bald Cypress tree was planted along Wildflower Lane. The late Grace Tom was honored at Arbor Day for the contributions to the Cornwall Manor environment she and her late husband made. Grace and Joseph Tom moved to Cornwall Manor in 1990 and made a gift in 1998 for the planting of dozens of trees in the meadow area of the Buckingham Campus, and established a Tree Fund to provide for annual planting of new trees.
Many trees on Cornwall Manor's campuses are planted in honor or memory of loved ones. Cornwall Manor keeps a "tree book" – a complete listing of all trees donated as well as annual Arbor Day plantings. For more information on planting a tree in honor or memory of someone, please contact Cornwall Manor's Development Office at 800-222-2476. Tree books are available for viewing in the Marketing & Public Relations Offices and in the Freeman Community Center.
We are very grateful to have a beautiful community with many different types of trees. "Someone is sitting in the shade of a tree today because someone planted a tree a long time ago."
Photo: Cornwall Manor resident Tree Interest Group Co-Chairs Barry Badger (left) and Daphne Messersmith (right) with Grace Tom's son Jonathan and wife Sally at the Arbor Day program.