Visiting Middle Creek & the Snow Geese
January 2020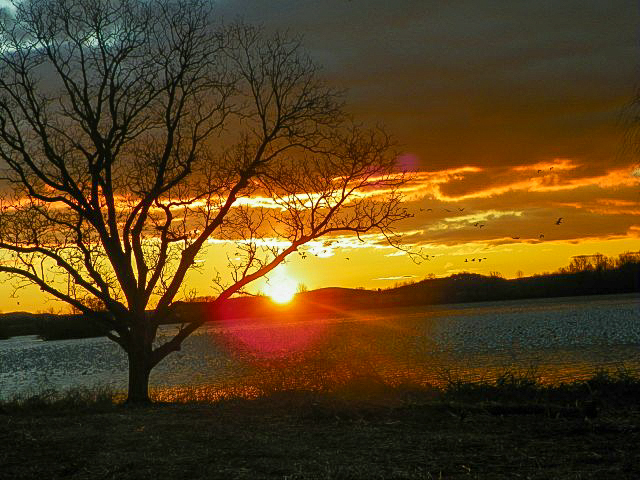 Experience by an Amateur Enthusiast & Resident Sally Renda
The Middle Creek Wildlife Management Area spans 6,000 acres in Lancaster and Lebanon counties, Pennsylvania, just nine miles from Cornwall Manor. It is managed
by the Pennsylvania Game Commission. The area lakes seasonally get up to 100,000 migrating snow geese.
I first learned of the Middle Creek Wildlife Management Area and the annual winter migration of the snow geese when I moved to Cornwall Manor eleven years ago. I wanted to see what it was all about, so I stopped by one Saturday afternoon. Big mistake. Few geese, many visitors, very limited parking. I have since learned that visiting at dusk or dawn are the times to go. Snow geese roost on the lake at night and feed in the fields in the Lebanon/Lancaster/Dauphin Counties area during the day. If you go at dusk to the Middle Creek viewing area, it's crowded and parking is limited but you can see flocks of birds land on the lake and, if you're lucky, you can watch the birds already on the lake taking off (to make room for the newcomers, I think) and then returning. It can be an active and exciting time but it is unpredictable
because of the weather and many other factors (which only the birds understand). You need to stay until sunset to see the maximum activity (and of course, a pretty sunset!). Bring a flashlight – it gets dark right after the sun goes down and there is no artificial lighting on the path. I usually go 2-3 times a year because every
experience is different.
Last year I saw a news story on TV about the dawn experience. It was amazing! I have always been leery of going first thing in the morning — would it be too dark? — would the birds have left already?–and I am generally not an early riser. But after two spectacular experiences I am now a convert and wouldn't go any other
time! I am writing this article hopefully to encourage your dawn visits and to provide hints as to how to get the most out of those visits.
The Pennsylvania Game Commission has a website with a section that gives almost daily counts of snow geese at Middlecreek (other birds too, such as tundra swans, Canada geese, and other water fowl). They have a live cam that focuses on where the snow geese congregate so you can get an idea of how many geese are there. Check it out.
1. Make sure the geese are there in sufficient numbers (I never go if the count is under 50,000) and depending on the year (the last two, for example, I waited for at least 100,000).
2. Check the weather — you don't want to go in the rain. The geese might be there but you won't be comfortable. There is only a small pavilion to stand under. It can get very cold and windy so dress warmly. Bring a flashlight.
3. Find out when the sun rises. Leave enough time for the 20-30 minute drive from here and 15 minutes for the walk from the parking lot to the viewing area. You want to get to the viewing area about ½ hour before the official sunrise time. The geese begin to take off shortly after you can see the sun rise over the horizon – sometimes all at once. The two times I have gone at dawn this year have been among the most exciting times in my life. It was not crowded and parking was not a problem. The sun rising over the water itself is breathtaking. Listening to and watching the geese getting ready to leave (and trying to guess when they're going to leave!) is fun. If you are lucky enough to see them all leave at once you will never forget it! We are fortunate to have this "hidden gem" so close to Cornwall Manor. Take advantage of this beauty!