Picturing Your Ideal Retirement
Retirement and the decision to relocate are about more than just heading somewhere sunny and warm — although good weather never hurts! It can depend on a lot of factors, including finances, proximity to family and even medical needs. But besides those practical things, you want to retire somewhere you'll enjoy. After spending years dedicated to a career and raising a family, you're ready to relax and enjoy your life.
What if there was a place you could retire that offered four beautiful seasons, lots of restaurants, plenty of activities — and helped you maximize your retirement budget?
Cornwall Manor is an active senior living community located in historic Cornwall, Pennsylvania. We have been offering a vast selection of high-quality housing options, including apartments and houses for independent living near Lancaster, for over 70 years. Cornwall Manor is central Pennsylvania's choice for senior living. We are a beautiful community situated on 190 wooded acres. Everything you need is at Cornwall Manor – onsite health care, a la carte dining, transportation, maintenance-free living, wellness (fitness center, pool, and therapeutic spa), activities on campus, trips and excursions off-campus, pastoral services, volunteer opportunities, friendly neighbors and caring staff – all add up to peace of mind.
Cornwall Manor is located near scenic Lebanon County and is a short drive from Hershey, Harrisburg, Reading, and Lancaster. Lancaster County is about 20 miles from Cornwall Manor and can be accessed via Pennsylvania Routes 72, 501, 322, 222, 30 and 772. Lancaster is home to many restaurants, art museums, boutiques and shopping, musical and theater events and historical landmarks. While Cornwall Manor offers many programs, concerts, book reviews, adult education programs on campus, it is an added bonus to have additional things to do in nearby Lancaster County.
Let's talk about Lancaster, Pennsylvania.
What does Lancaster offer?
Located in southeastern Pennsylvania, along the Pennsylvania/Maryland border, Lancaster County is home to approximately 543,000 people. You've most likely heard of Lancaster County because of its large Amish population. Lancaster County is a rural setting, nestled in the rolling hills and quaint farms, resulting in beautiful landscapes in all directions and the heart of Amish country.
In Lancaster County, expansive farms blend with more modern living in a unique and charming atmosphere. While many visitors come to Lancaster to experience the old-fashioned charms of Amish country living, people are often surprised to realize that there's more to Lancaster than that!
In the heart of Lancaster County, the city of Lancaster is home to restaurants, art museums, theaters, and boutiques. Named one of the top 10 coolest cities in the United States, Lancaster has been described as a "newly hip Victorian city" for its mixture of old and new. Besides its stunning architecture, Lancaster boasts an up-and-coming food scene and plenty of art for those who are looking for a city vibe without the crowds.
Lancaster County is also one of the premier antique destinations in the northeast United States, housing thousands of dealers and shops full of treasures.
Lancaster is full of things to do, but it's slower, simpler pace appeals to many retired adults who are tired of the fast pace of life in the city. Its proximity to larger cities like Harrisburg, Philadelphia and Pittsburgh provides fantastic opportunities for weekend travel, professional sports and a wide variety of entertainment, but its slower, simpler pace makes for a relaxing day-to-day way of life.
Lancaster Demographics
Many other retirees have already discovered the joys of Lancaster living. According to the U.S. Census Bureau, nearly 18% of the population in Lancaster County is over the age of 65. Lancaster has a mixture of young and old, something many older adults find appealing. Even when you live in a retirement community with other older adults, there are plenty of opportunities to interact with families and children around town. That also means there's plenty to do when the grandkids come to visit!
Lancaster is home to Franklin and Marshall College, the Pennsylvania College of Health Sciences and Millersville University of Pennsylvania. These institutes of higher learning offer an excellent opportunity for our older residents to continue their love of lifelong learning, as well as regularly bringing new people into our community.
While agriculture is undoubtedly big business in Lancaster, the county is home to plenty of other industries as well. Among the top industries in Lancaster County are manufacturing, health care and retail. The proximity to larger towns and cities also enables many of our working residents to make the short commute to jobs in nearby areas.
Discover Cornwall Manor's Residential Options
Top 10 Benefits of Retiring near Lancaster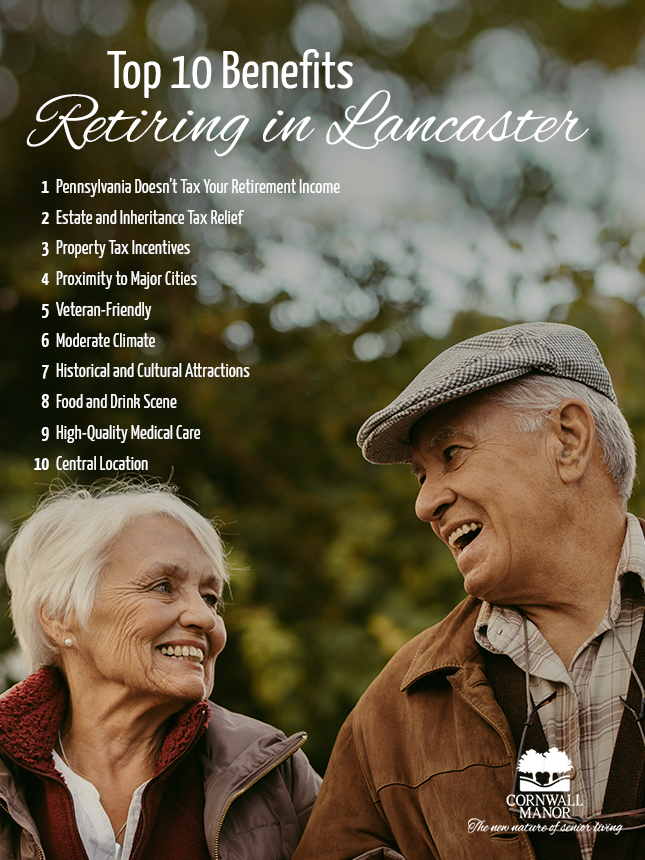 There's no question about it: Lancaster County offers many things to do. But if you're considering retiring near here, you probably want to know about more than just the restaurant or antique scene. Those do make it sound more appealing, but it's not the way to make a decision that will impact your future. If there's more to the choice than that, why should you consider retiring near Lancaster?
1. The State of Pennsylvania Doesn't Tax Your Retirement Income
One of the most significant reasons to consider retirement in Pennsylvania is its retirement-friendly tax structure. Pennsylvania does not tax retirement benefits, including 401(K)s, Social Security, IRAs or pensions — public or private. That means you get to keep more of your hard-earned money where it belongs — in your pocket. Pennsylvania also does not charge sales tax on medications, which means a lot when you consider 75% of seniors are taking at least one medication regularly.
While this financial benefit isn't unique to seniors, it's also essential to consider Pennsylvania doesn't tax its residents on food, clothing or residential heating fuel, including electricity, oil, gas, firewood or coal. All other items are subject to a 6% sales tax.
2. Property Tax Incentives
If you are still paying a mortgage, your property taxes are part of your monthly mortgage payment, which means you probably don't think much about them. But a common problem among older adults is that they pay off their mortgage, and suddenly they find themselves facing a sizeable annual property tax bill they can't pay.
Of course, if you choose to move into a senior living community like Cornwall Manor, you won't be paying property taxes anyway!
3. Proximity to Major Cities

Lancaster offers plenty of ways to keep busy! But many of its residents enjoy proximity to Pennsylvania's largest metropolitan areas, including Philadelphia, Pittsburgh and the state Capitol of Harrisburg. In just a couple of hours, you can be enjoying art museums in downtown Philadelphia. If you enjoy sports, take in hockey, baseball or football game in Philadelphia or Pittsburgh. Or, if you're looking for something a bit quieter, take in some of the beautiful architecture of the capitol building in downtown Harrisburg.
Deciding to move can sometimes be challenging when you're worried about moving away from loved ones. Lancaster's short drive to major cities is also a bonus if you are living far away from family because it means your relatives can easily fly into a major airport in Harrisburg or Philadelphia for regular visits.
Lancaster is also within driving distance to the beautiful Poconos. Although not a major city, the Poconos are a world-famous vacation destination, offering hiking, romantic resort accommodations and skiing for all. The Poconos are uniquely beautiful in the fall, when the red, orange and yellow foliage is at its peak.
4. Veteran-Friendly
Thank you for your service! Pennsylvania is home to 870,000 veterans, in large part due to the state's military-friendly policies and programs. Pennsylvania does not tax military retirement, and Cornwall Manor is just three miles from one of the country's best VA facilities, the VA Medical Center in Lebanon County. Disabled veterans who reside in Pennsylvania also have access to several other assistance programs that help them get jobs, obtain education and get the medical and mental health services they need.
5. Moderate Climate
When you think about climate and retirement, the first thing that often comes to mind is moving somewhere warm. However, a lot of people value the chance to experience all four seasons. You can enjoy the snow falling outside, the beautiful blooms and blossoms of spring, warm summer evenings on the porch and gorgeous fall foliage — all without ever leaving Pennsylvania. And, if you choose Cornwall Manor you can look forward to all those things without worrying about shoveling snow or raking leaves.
6. Historical and Cultural Attractions
As one of the original 13 colonies, Pennsylvania has played a significant role in our country's history from the very beginning. While Lancaster has its fair share of rich historical and cultural traditions, it's also close to several of our nation's most important historical sites. Lancaster is just a short drive away from Philadelphia, home to Independence Hall, where the Founding Fathers wrote and signed both the Declaration of Independence and the Constitution. While there, you can view the Liberty Bell, the Museum of the American Revolution, the National Museum of American Jewish History and Valley Forge National Park.
For those interested in the Civil War, head to Gettysburg, the site of President Abraham Lincoln's famous address. Today, Gettysburg is home to the Gettysburg National Military Park, a cemetery and national park dedicated to remembering those who fought there. The town of Gettysburg is also home to several museums and historical sites.
If you're looking for some more recent history, take a day trip to northern Pennsylvania. Williamsport is home to the Little League World Series — held each summer — as well as the World of Little League®: Peter J. McGovern Museum and Official Store, which chronicles the history and significance of Little League baseball in the United States.
7. Food and Drink Scene

Lancaster's restaurant scene has exploded over the last decade, increasing by 79%. Food Network's Alton Brown has even raved about one of his local favorites, bringing even more attention to the up-and-coming foodie's paradise. While there's still plenty of the traditional Amish fare many tourists come for, the restaurant scene has expanded into a variety of food and beverage options for all ages and tastes. There's also a booming bar and tasting room business, including the Stoll and Wolfe Distillery and Tasting Room, The Imperial and The Bull's Head Public House, named the "Best Beer Bar" in Pennsylvania four years in a row.
Pennsylvania is also home to more than 280 small pubs and breweries. Why not take a Saturday to grab a flight at a nearby brewery or indulge in a pint of a local brewer's seasonal offerings?
8. High-Quality Medical Care
When you're thinking about the future, sometimes you have to be practical. When you choose a place to retire, it's important to consider proximity to medical care and the professionals who can help you when you experience health issues. Cornwall Manor is close to several first-class health facilities including the Lebanon Veterans Affairs (VA) Medical Center, WellSpan Health, Penn Medicine/Lancaster General Health, Pinnacle Health and Penn State Health Milton S. Hershey Medical Center.
9. Central Location
There's so much to love about being near Lancaster, and there's certainly a lot there to keep you entertained. But one of the best things about Lancaster is that it's close to all the other wonderful things Pennsylvania has to offer. Retirement is one of the best times to travel and experience new things, all of which you can do without ever leaving Pennsylvania. Within just a couple of hours, you can be hiking in the Poconos, watching the Little League World Series in Williamsport or sampling craft beer at one of the state's many breweries.
Why Retire near Lancaster?
A 2018 report from U.S. News & World Report named Lancaster, PA, the second-best place to retire in the United States. Among other factors, the report looked at housing costs, taxes, health care and happiness to determine the best cities for seniors. But here's the thing: Where you choose to retire should come down to finding an affordable place that's going to keep you busy and make you happy. Sure, Lancaster is a great place to retire because of the housing affordability, low taxes and outstanding health care, but there's so much more to it than that. Lancaster is a small, peaceful town that offers no shortage of things to do, places to go and food to enjoy.

If you like being close to Lancaster, Cornwall Manor should be at the top of your list of places to live. Voted "Best Retirement Community" by the LebanonDaily News, Cornwall Manor has a proud tradition of providing high-quality housing and senior care. Our independent senior living communities offer worry-free living at its finest — providing housekeeping, lawn maintenance, on-site dining and a pet-friendly neighborhood designed to help you enjoy this phase of life.
Contact Cornwall Manor today to schedule a tour or overnight visit and see the best of what we have to offer.