Cornwall Manor Woodshop Builds Gardening Stations
July 2019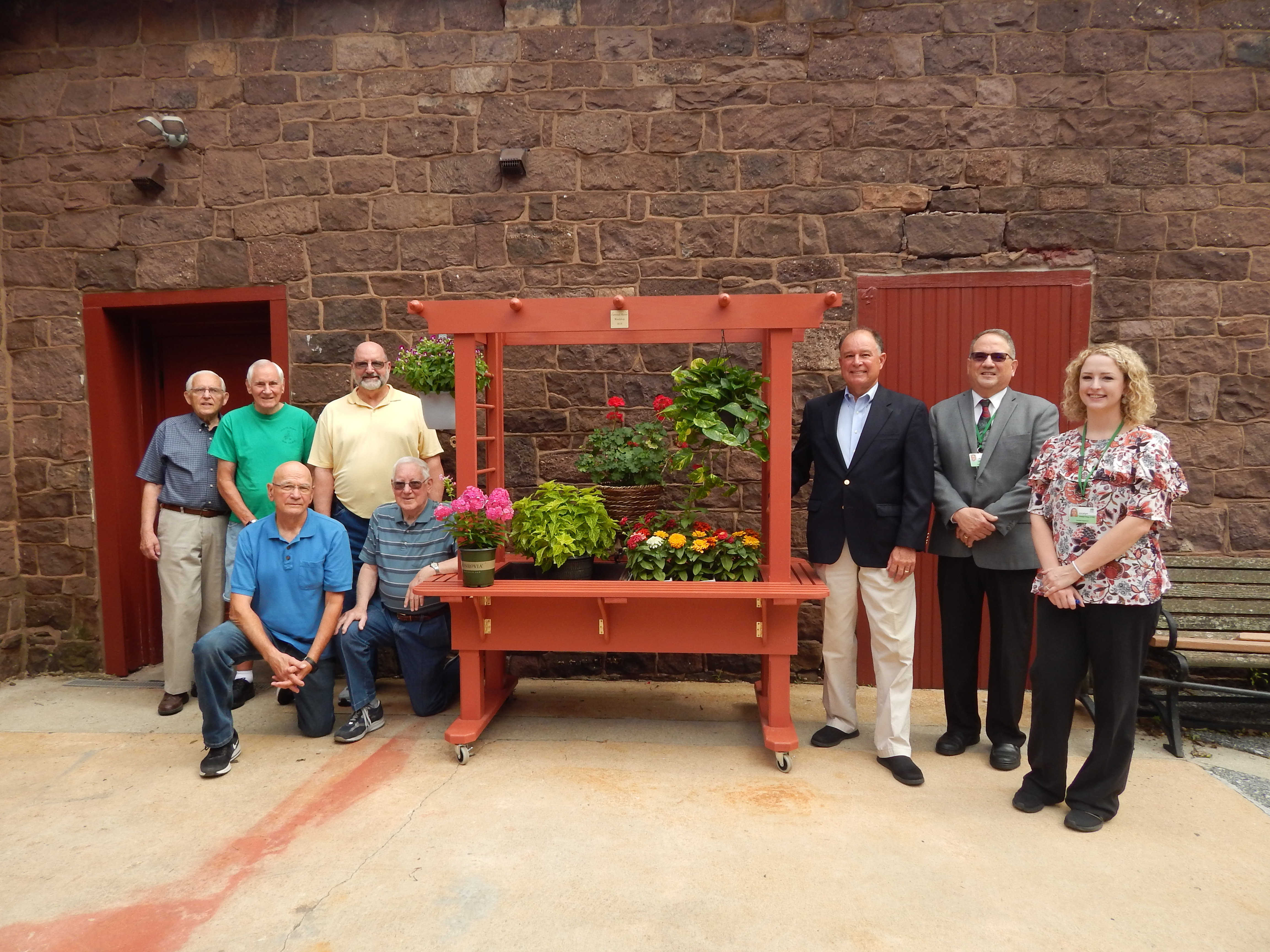 Special appreciation is extended to the Cornwall Manor Woodshop for designing, constructing and painting six garden centers for use in the Health Center and in Corson Hall Personal Care. These garden centers are mobile and specially designed for individuals in wheelchairs to access the gardening station. A versatile device, the gardening centers provide all the necessary tools for traditional gardening, but also are equipped to showcase plants.
The garden centers are complete with trays to hold soil or pot plants. The centers have fixed end ledges and collapsible side ledges, for working or holding pots and garden tools. Side ladder trellises for climbing plants to grow and an overhead ladder for hang hanging baskets.
Former Cornwall Manor President Steve Hassinger approached the Cornwall Manor Woodshop in December 2018 about constructing the garden stations for personal care and health center residents. After some discussion on size, accessibility, stability and purpose, the Woodshop agreed to take on the project and constructed one garden center to make sure it met the needs. The entire design was custom-fitted around the two bins in the center of the garden station that hold soil.
The Woodshop volunteers purchased the materials and construction began in late January 2019. Soon after Steve's retirement in March, he returned to the Woodshop to check on progress and picked a finishing color. In June 2019, the Woodshop completed the project of six gardening stations and Maintenance delivered four stations to the Health Center and two stations at Corson Hall.
The project was funded from the "Gift of Gratitude" collected in honor of Steve Hassinger's retirement. We are extremely grateful to the Woodshop for their time and talent completing this project. Altogether, the Woodshop volunteers accumulated 1,200 hours of volunteer time completing this project for Cornwall Manor! Jocelyn King, Health Center Activities Supervisor, shared that many Health Center residents have a passion for gardening and having these centers makes gardening easier for residents to do what they love.
Pictured above left to right: Parker Johnstone, George Geidel, Charles Whary, Barry Badger (kneeling) and Joe Feather, Woodshop Volunteers; Steve Hassinger, Retired Cornwall Manor President; Lee Stickler, Cornwall Manor President and Jocelyn King, Health Center Activities Supervisor share a moment together with the completed gardening stations built by the Woodshop.