Why Is It Important to Stay Physically Active?
December 2018
An active lifestyle is important for anyone at any age, but especially for older adults. Some people believe they can pack up their running shoes and swimsuit once they reach a certain age. However, exercising and staying active will help you maintain a higher quality of life, keep you more optimistic and upbeat, and even help you live longer.
The process of aging impacts your body tremendously, from the loss of muscles mass and agility to increased body fat and a higher risk of injury. As little as three hours of exercise a week has incredible benefits for you as you get older, such as:
Reduced risk of developing disabilities or chronic conditions
Increased mobility, balance and flexibility
Helps maintain a balanced weight
Lowers blood pressure
Positive impact on both the heart and brain
Supports thinking skills
Makes it easier to do things you want to do
Helps in the treatment of chronic conditions like diabetes, heart disease and arthritis
Health and Wellness Tips for Active Seniors
As you get older, it's important to think ahead before engaging in activities that could put a strain on your body. This is especially true if you're trying out a type of exercise you've never participated in before. Your doctor will know if there is any activity that isn't good for you, particularly if you have a chronic condition.
Here are some tips that will ensure your transition into a more active lifestyle is smooth and safe:
Safety first: Whether it's an exercise machine or an aerobics class, chances are good there are guidelines associated with that activity. Make sure you understand any safety precautions ahead of time, and be sure to follow the rules.
Stay comfortable: Wear clothing and shoes that are comfortable.
Set Goals: Set both short-term and long-term goals for yourself. For example, in the short term, maybe you want to exercise 30 minutes every day, but long-term you'd like to be able to walk two miles without losing your breath. Just make sure all your goals are realistic to your own circumstances.
Exercise in your regular routine: You don't have to hit the fitness center to stay active. Just rethink the way you go about your day. Take a walk after lunch instead of watching TV, or take the stairs instead of the elevator. There are countless opportunities every day to physically engage your body.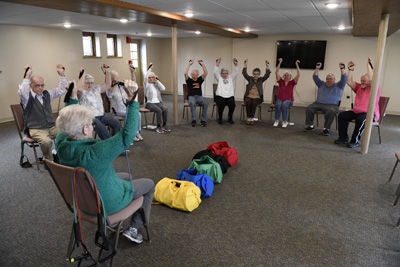 Activities that Cater to Older Adults
Although you don't have to limit yourself to certain activities, some exercises lend themselves to older adults. Some of the activities we find our residents enjoying include:
Aerobic group classes
Dancing
Strength and weight training
Swimming and water aerobics
Tai chi and yoga
Brisk walks
Customize Your Own Wellness Program at Cornwall Manor
At Cornwall Manor, we want to ensure you have ample opportunities to stay active with our many wellness activities. We believe that this adds to the overall happiness of our residents. There are many wellness activities to choose from, so you will always have the opportunity to try something new — like a new skill or exercise you really wanted to try but never had the chance.
Contact us to find out how living at Cornwall Manor can help you optimize your health and wellness.