LifeTrail at Cornwall Manor: Outdoor Fitness Stations
May 2017
Cornwall Manor believes it is important to nurture the body, mind and spirit. Our community offers many wellness activities to keep you busy in our Wright Family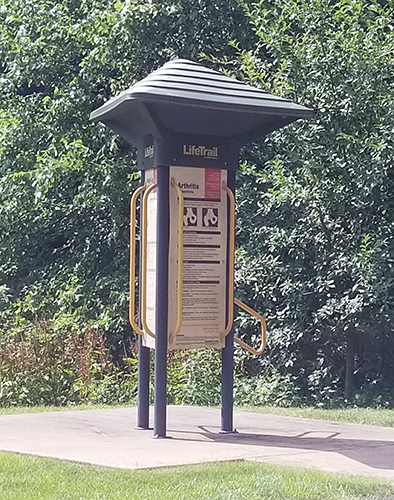 Wellness Center as well as outdoors on our 190-acre campus. Additionally, a full-time Wellness Coordinator is on staff to help customize your wellness program.
Outdoor walking paths, the Lebanon Valley Rail Trail, Bishop Corson Park and ten LifeTrail stations are just a few of the outdoor things you can partake in at Cornwall Manor to improve your health.
LifeTrail is a low-impact, functional fitness, outdoor wellness system created to help older adults stay fit, prevent injury, and maintain an independent lifestyle. The stations are designed to keep a user's feet in contact with the ground as they bear their own weight, making muscles work together, just as they do in real life. LifeTrail was developed in conjunction with Penn State staff who specialize in gerontology, kinesiology and recreation.
LifeTrail brand was introduced in 2004 by Playworld Systems, a Lewisburg, Pennsylvania company that has been manufacturing commercial play equipment since 1971. Cornwall Manor was the first retirement community in the country to install LifeTrail on their Buckingham Campus.
The ten LifeTrail stations are located along a walking trail that begins at the entrance to Wildflower Lane (behind Gateway and Westwood Apartments) and continues for 7/10 of a mile along Wildflower Lane, through the Gatehouse Lane neighborhood, along the path to the main entrance of the Buckingham Campus, then along the road adjacent to Gateway and finally ending where it began at Wildflower Lane.
The first station offers suggestions and information on LifeTrail, its exercises and emphasizes the importance of having an active lifestyle.
Leg pedaling at the second station is a lower body warm up that increases the muscle/body temperature and heart rate, preparing your body for further exercise – and eight more stations!
At station three, a bench stepper is designed to increase lower body strength and reduce the risk of falling.
Torso stability is the focus of station four. This involves two exercises – one seated and one standing. The seated exercise improves seated posture, reduces lower back pain and tons muscles in the lower back and stomach. The standing exercise strengthens muscles along the spine and improves posture. Station four also features five stretches for wheelchair users. These stretches increase flexibility, reduce the change of injury and expand the range of motion.
Arm pedaling at station five is designed to increase temperature and heart rate as well as prepare the upper body for further exercise.
Station six includes standing push up bars. This exercise benefits the muscles in the arms and chest. Wheelchair users utilize a pull-up exercise which builds upper body strength and increases wheelchair user independence.
The forearm roll at station seven increases strength in hands and forearms.
The upper body stretch station features a variety of stretching movements at station eight. The seated torso rotation increased flexibility of the waist, hips, chest and upper back and helps to maintain or improve posture. The body hug and shoulder roll include the benefits of reducing tension in the neck and muscles in the upper back and increasing range of motion in the neck and shoulders.
Station nine featured lower body stretches for the calf and hamstring. Both stretches are designed to increase the flexibility in those muscles.
The final station incorporates two exercises. The partial lunge increases leg strength, balance and flexibility of the hamstring muscles and hips. The single leg balance increase sense of balance and buildings foot and leg strength.
When former Cornwall Manor resident LeRoy (Bud) Campbell passed in 2003, his wife Marion requested that memorial contributions in his name as well as her son Jack, who passed in 2002, be designated for the installation and landscaping for LifeTrail at Cornwall Manor. We are grateful to the Campbells for making this possible at our community. For more information on Cornwall Manor's LifeTrail stations, please contact our Wellness Coordinator at 717-675-1528.
Consult your physician before beginning any new exercise program.