Local theatre production dazzles – Cornwall Manor employees cast; Society benefits
August 2019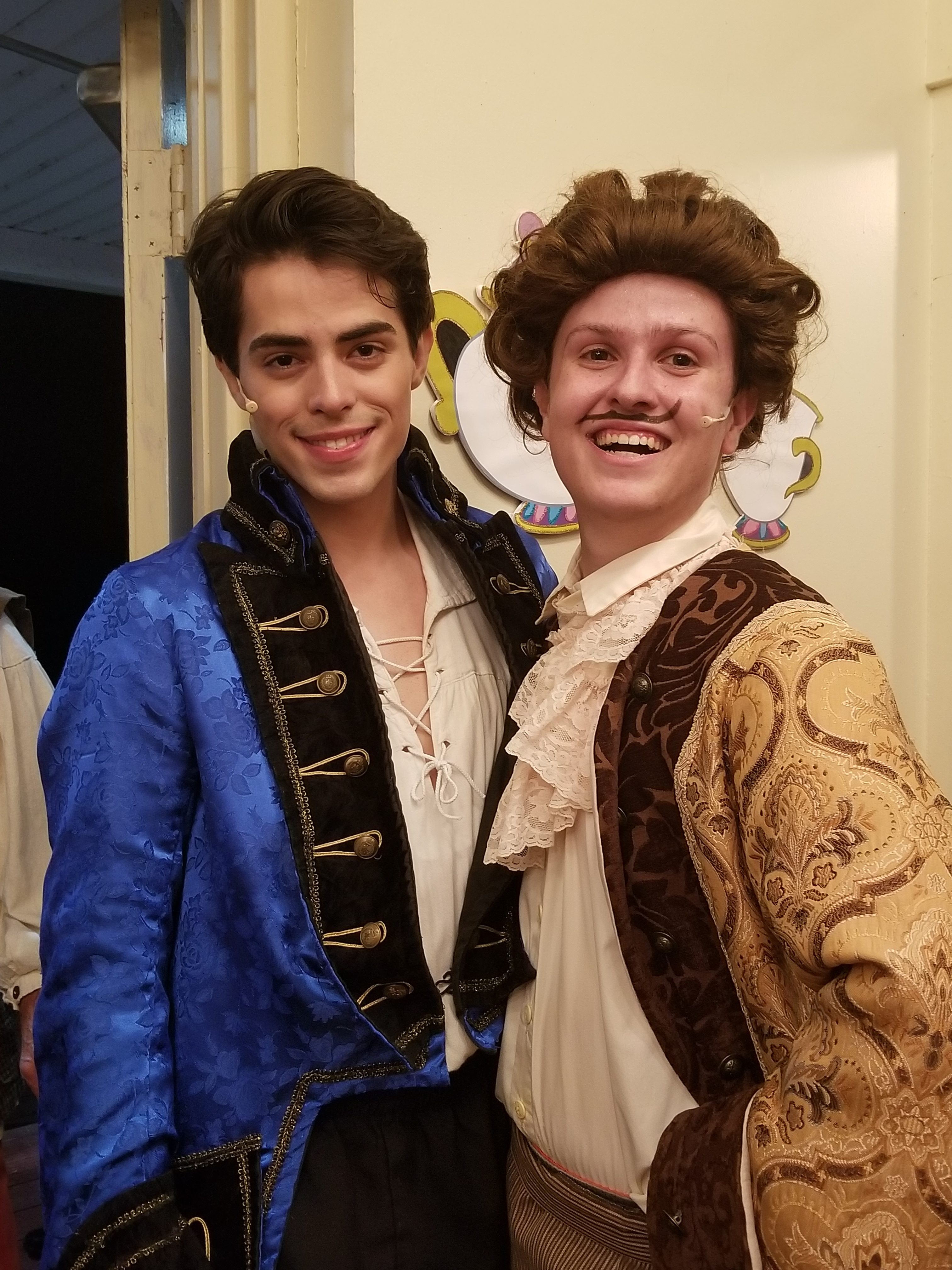 A sold-out Cornwall Manor crowd 'oohed and awed' while watching a beautiful young woman take the place of her imprisoned father in the castle of a beast, who is really a cursed prince. She teaches him to be courteous and respectful, and they fall in love, in this stage adaptation of the animated Disney film, Beauty and the Beast, based on the classic fairy tale.
For the past four years, the Cornwall Manor Society has been renting out the Lebanon Community Theatre (LCT) to host a private showing of the playhouses' summer production. What better way to spend a summer evening than with your closest Cornwall Manor friends and family by attending a pre-production wine and cheese reception followed by the show.
As an added bonus, two Cornwall Manor employees had roles in the show. Noah Keeney played Cogsworth, the clock with a serious demeanor which is evident in his strict attitude in serving the Beast and ordering the other servants around constantly.
Isiah Hunter was cast as the pampered and spoiled Prince who is transformed into a hideous beast as punishment for his cold-hearted and selfish ways. If he can learn to love again, the spell will be broken.
Noah and Isiah have many things in common. Both are 2018 Cedar Crest graduates and during their senior year, both were cast in Beauty and the Beast (Noah as Cogsworth and Isiah as Lefou). They have taken the stage in other Cedar Crest productions like See How They Run, The Secret Garden (lead role for Noah) and Play On! (lead role for Isiah).
Noah was also part of the Into the Woods cast during his sophomore year (Isiah transferred to Cedar Crest at the beginning of his 11th grade year). Noah's love for theatre began in third grade and he also credits his father, Brian, for passing on the theatre bug. He was cast in his first Lebanon Community Theatre production (Annie) at the age of 12. Being able to play Cogsworth a second time gave Noah the opportunity to reprise the role. "I didn't have to memorize the lines again. This allowed me to really give Cogsworth character," shares Noah. Between the facial expressions and time-related puns (remember, Cogsworth is a clock from the curse placed on the Beasts' castle), Cogsworth very much portrays an uptight, snooty clock with a British accent that the entire audience loves (move over, Belle and Beast….). Noah enjoys Lebanon Community Theatre for the friendships and feels best when he sees people laugh, smile and enjoy his performance. He has no immediate plans to try out for future productions, but looks forward to being back on stage at Lebanon Community Theatre.
Isiah received the Hershey Theatre Apollo Award for his role in Play On! Created in 2008, the Hershey Theatre Apollo Award is presented annually to recognize outstanding achievement by local high school students in their musical and play productions. He has also performed at MU Theatre, where he wrote and acted in plays. His future LCT plans include And Then There Was None, which he tried out and has been casted for (that show will be playing September 12-22). He also auditioned for Jekyll & Hyde and received a call back.
Both young men are currently attending Harrisburg Area Community College. Noah's plans are to transfer to Lebanon Valley College for History Education and Isiah is double-majoring in theatre and accounting. He plans to transfer to Lebanon Valley College or Millersville University.
Noah and Isiah's friendship continues beyond the doors of Cedar Crest and the Lebanon Community Theatre to Cornwall Manor. Both young men work here as dining services associates (Isiah started in February and liked it so much that he recommended it to Noah, who applied and started in June).
A few days have passed since seeing the production and most of Cornwall Manor is still buzzing about the fantastic performance. We can't wait to see both Noah and Isiah on stage again!
The Society, which is the auxiliary of Cornwall Manor, raises funds and provides programs for personal care and health center residents. Proceeds from the Lebanon Community Theatre fundraiser provide things like the Fun Fest (picnic for personal care and health center residents and their families), flowers for outdoor porches, Horizons (memory stimulation programs), Christmas parties (entertainment and refreshments) and much more.