Residents Encourage Early Literacy
November 2019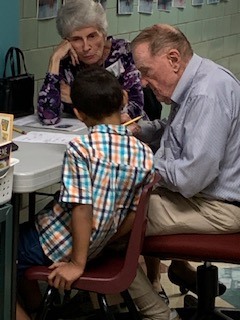 Did you know that children who can't read on grade level by the end of third grade are four times less likely to graduate from high school?  A needs assessment conducted by the United Way of Lebanon County in 2016 showed that just over 22% of students were not reading at proficiency.
Based on those results, the United Way recently launched an early literacy program called Reading Friends. The program is targeted to benefit pre-kindergarten through third grade students, which is the most important time for literacy among our youth. Reading Friends began at the start of the 2019-2020 school year in the Lebanon School District and is now offered in four of their five elementary schools.
As a Reading Friend, volunteers work with children in their classrooms both one-on-one and in small groups, depending on the needs within the classroom and those of the individual student. The United Way required many volunteers to meet the need of this in-demand program. Cornwall Manor residents were pleased to partner with the United Way and assist their time and talents.
Cornwall Manor's City Ministries group first learned of this need within our county and reached out to the United Way. City Ministries began in 2009 and is comprised of a group of Cornwall Manor residents who are interested in learning more about the outreach ministries of churches and institutions in the Lebanon community, of which Cornwall Manor is part.
Alyssa Trentzsch, United Way of Lebanon County's Director of Leadership Development was invited by the City Ministries Leadership Team to attend a retired teacher's luncheon at Cornwall Manor and pitched the idea – which generated a lot of interest. A workshop was later held to share specifics about the program and obtain the necessary clearances to volunteer with youth. Currently, about 30 Cornwall Manor residents are involved in the Reading Friends program.
Cornwall Manor resident and Reading Friends volunteer Joseph Mesics shared, "this is by far the most satisfying community service task I have ever done. The students look forward to my visit and to see the happiness in their eyes when they learn to read is heartwarming and rewarding."
Future plans include starting a Reading Friends program in another Lebanon County school district in January 2020. Cornwall Manor has partnered with the United Way to host an appreciation and recruitment event in December for the Reading Friends program. The United Way hopes that 90% of children will be reading on grade level by the end of third grade in 2025 through the Read to Kids program.