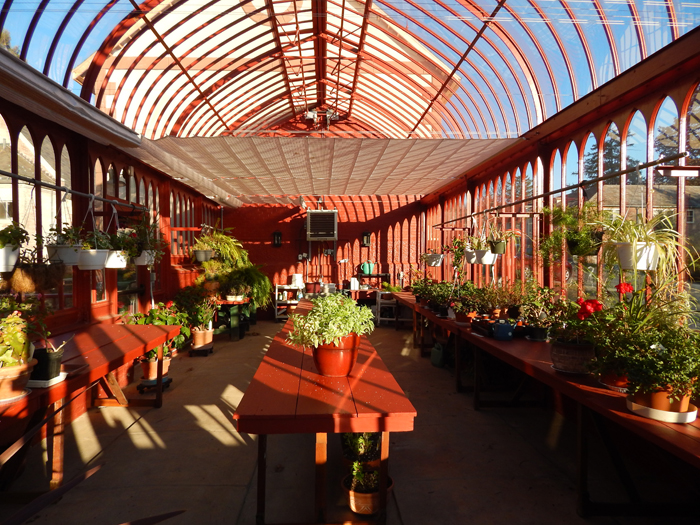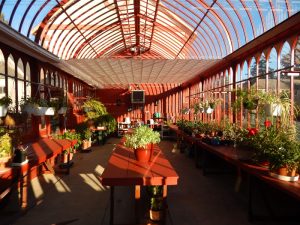 Many gardening enthusiasts may fear they will need to give up their passion if they move into a retirement community, but that's far from the truth at Cornwall Manor, a premier retirement community in Central PA with many opportunities for gardening. Spending time outside and in nature is a great way to stay healthy and energized. There are many opportunities to pursue, and gardening can be one of them. While retirement communities like Cornwall Manor can eliminate the need for property landscaping, gardening for leisure can be a newfound way to reduce stress and keep you physically and mentally healthy.
Learn how gardening can help older adults, and what Cornwall Manor offers to make these hobbies accessible to residents.
Benefits of a Retirement Community With a Greenhouse
Urban agriculture, farming and gardening have been popular trends over the last few years. Our residents have fully embraced this trend by participating as active gardeners. Some of the many benefits our residents receive from gardening include:
Staying active: Mixing soil, filling pots and watering plants are all valuable ways to strengthen your hands, while working the muscles in your upper and lower body.
Implementing a healthier diet: Vegetable gardening is a great way to incorporate healthier options into your diet. Sharing the produce you grow with those around you will also improve their dietary habits as well.
Improving mental acuity and immune system function: Research has shown that gardening improves brain and mental health. Exposure to sunlight will provide vitamin D, which boosts both your mind's and immune system's abilities to function.
Enjoying a Stress-Free Environment: Being surrounded by nature reduces stress and provides a relaxing hobby to indulge in.
Adapting activities as needed: If you have specific limitations or needs when it comes to caring for plants or participating in gardening, you can easily tailor your desired activity to your ability level.
Making friends through community involvement: Participating in a gardening group is the perfect way to stay involved and meet new friends, while continuously reaping health and wellness benefits.
A great way to stay involved in gardening or try gardening for the first time is to find a retirement community with a greenhouse and gardening group — at Cornwall Manor, we have both.
What We Offer
The benefits of gardening activities for older adults are clear. At Cornwall Manor, we want residents to reap these benefits. We make gardening activities and fresh produce available on our campus through various amenities. With these resources, residents can volunteer to contribute to the community and admire their hard work by enhancing our community's natural environment.
Residents Association Garden and Greenhouse Committee
At Cornwall Manor, the Residents Association's Garden and Greenhouse Committee welcome resident volunteers to tend to gardens throughout our campuses and coordinate the use of our greenhouses. Our resident vegetable gardens are fenced-in areas located at the Buckingham and Woods Campuses. Residents can sign up for a garden plot to plant vegetables, flowers and other plant life.
Buckingham Campus also has two greenhouses, one of which is a historic building at Cornwall Manor, which was constructed in 1881 and was used to assist the gardeners in sustaining the estate's grounds. To this day, almost 135 years later, the historic greenhouse is a treasured, year-round gardening space for our residents — one of the many ways Cornwall Manor allows you to embrace your gardening passions. The greenhouse recently underwent extensive renovations, including adding a handicapped-accessible entrance, a new ventilation and shading system, new paint and planting tables. A committee of resident gardeners gave their input and suggestions for the upgrades. These greenhouses allow residents to store plants over the winter, sow seeds, handle plant cuttings, and transplant and pot greenery.
Residents can find flower beds and volunteer garden areas throughout Cornwall Manor's 190 acres. The Garden and Greenhouse Committee coordinates these volunteers to weed and plant in these areas during the warmer months. How much you garden or volunteer is up to you, but there are resources available all year. Gardening for older adults is very much within reach in our community.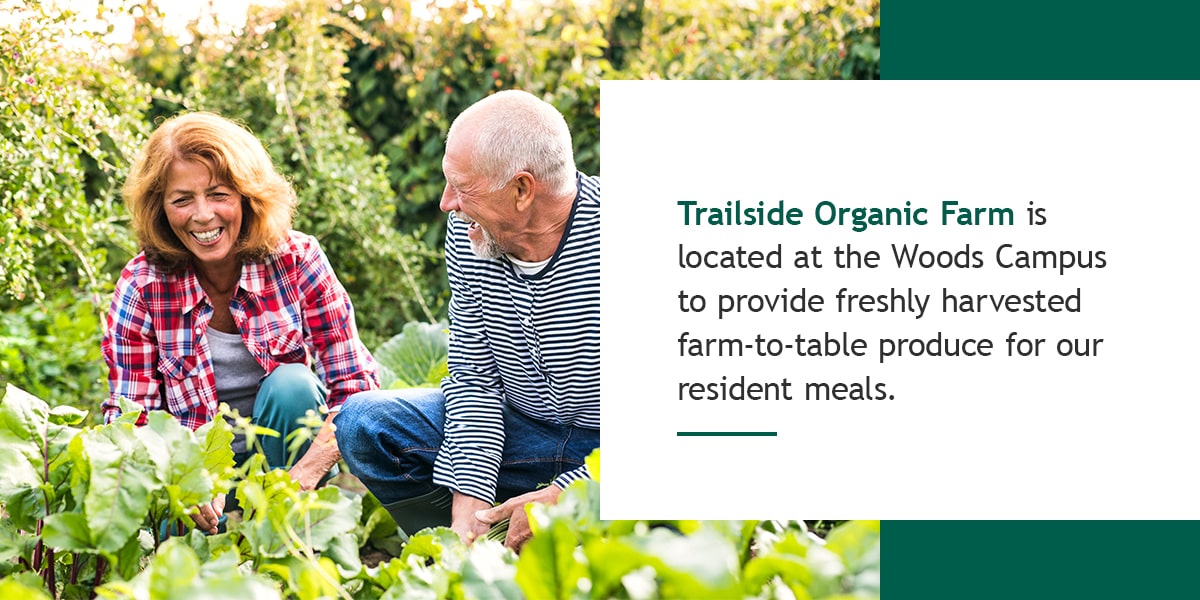 Trailside Organic Farm
With all the health benefits of gardening for older adults, we provide plenty of resources for residents to foster community, stay active and access a fresh and healthy diet. Cornwall Manor is the first retirement community to partner with the Rodale Institute for an onsite organic farm. Rodale Institute is a nonprofit organization committed to developing the regenerative organic movement.
Trailside Organic Farm is located at the Woods Campus to provide freshly harvested farm-to-table produce for our resident meals. The farm is two acres and certified organic. While this farm offers educational opportunities for residents, it also benefits our planet and adds to the beautiful environment of our community. You can find it next to the Lebanon Valley rail trail.
Garden Centers for Personal Care and Health Center Residents
With all the benefits of gardening during retirement, we want activity to be accessible to everyone living on our campus. In 2019, the Cornwall Manor Woodshop committed to constructing gardening stations for personal care and health center residents. The Woodshop took care to create stations that recognized accessibility needs for those in wheelchairs or with limited mobility.
These gardening stations are raised and feature collapsible side ledges to provide counter space for tools and pots. These ledges fold down to make the soil easier to reach. The Woodshop also incorporated side and overhead ladders for climbing plants and hanging baskets.
Garden centers bring the beauty of plant life to the Health Center and Corson Hall Personal Care. Residents in these areas can enjoy the relaxation of planting, creating community with their neighbors and admiring the garden centers when they bloom.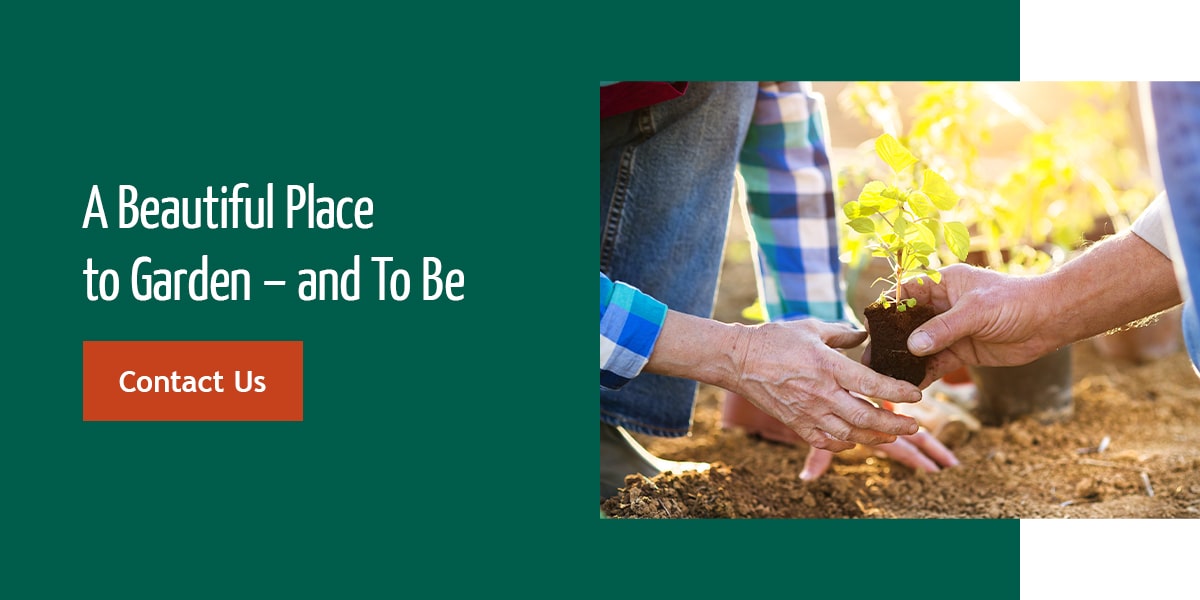 A Beautiful Place to Garden – and To Be
If you have an eye and an interest for gardening and horticulture, you will love Cornwall Manor's beautiful campuses and historic greenhouse. Enjoy our walking trails, landscaping, vegetable and flower gardens.
Our goal is to provide the highest quality programs and service to our residents. We ensure all our residents have a place to share and exude their interests and passions.
To learn more about gardening at Cornwall Manor or any of our other interest groups or amenities, contact us online or call us at 717-208-8376 to schedule your visit today!