Spend Your Retirement Near Hershey, PA
Retirement can be an exciting time, especially if you've decided to relocate to a new community. Some people move to be closer to family. Some people move to lower their monthly living expenses. And some people move for a change of scenery.
Have you considered spending your retirement near Hershey? Known for more than just the tantalizing scent of chocolate, Hershey and the rest of the state of Pennsylvania rank high on the list of best places to live in the United States.
Is Hershey, PA a Good Place to Live?
Located just east of Harrisburg, Pa., the popular tourist town of Hershey offers a small-town atmosphere with the amenities of a city. Besides the amusement park that immediately comes to mind when you hear the name "Hershey," Hershey is home to breweries, wineries, antique shops, theaters and plenty of restaurants. How does a town of fewer than 15,000 people offer such variety? Living in a tourist destination like Hershey means you'll have access to these great amenities and more.
When you live in Hershey, you get to experience all four seasons — summer, fall, winter and spring. Our moderate climate allows plenty of opportunities to enjoy the warm summer sunshine but also the sight of snow blanketing the bushes in your yard. And, even if all of those things aren't enough, Hershey is located within a short driving distance from Harrisburg and Lancaster.

Demographic Information
Because Hershey isn't a "traditional" place to retire, one thing many residents love is that the town offers a broad spectrum of ages. The median age is 41, which means that in Hershey, you'll find plenty of others enjoying their retirement, but you'll also regularly interact with singles and families living nearby. It also means that Hershey offers a variety of restaurant and entertainment options for all ages.
Hershey was built around the Hershey factory according to the vision of Hershey founder Milton S. Hershey — more about him later. But, the town has expanded beyond its original confectionery roots, and today, its largest industries are healthcare and social assistance, thanks in large part to the Milton S. Hershey Medical Center.
Is Hershey, PA an Affordable Place to Retire?
For most people, finances play a big role in selecting a location to retire. Once you're no longer working full time and dipping into your pension or savings, it's vital to make sure you choose a location that will help you stay safely within the boundaries of your budget.
Property taxes can be an important issue for retired adults because, at this point in their life, many own their homes outright and don't have the monthly burden of a mortgage. However, when you no longer pay a mortgage, that means your property taxes are no longer held in escrow, and you're financially responsible for quite a large tax bill each year. When you live on a fixed income, paying such a large sum out of pocket can be incredibly difficult.
The state of Pennsylvania is a great place to retire because of the variety of their tax-friendly laws and outstanding medical care. You'll save money by not being subject to high taxes and, as you'll discover later, your medications won't be taxed either.
Besides Pennsylvania's outstanding tax laws, if you opt to move into an active adult retirement community like Cornwall Manor, you won't be subject to property taxes, which can be another bonus.
Combined with all the small-town charm that Hershey has to offer — who wouldn't want to move there?
Discover Cornwall Manor's Residential Options
Benefits of Retiring in Hershey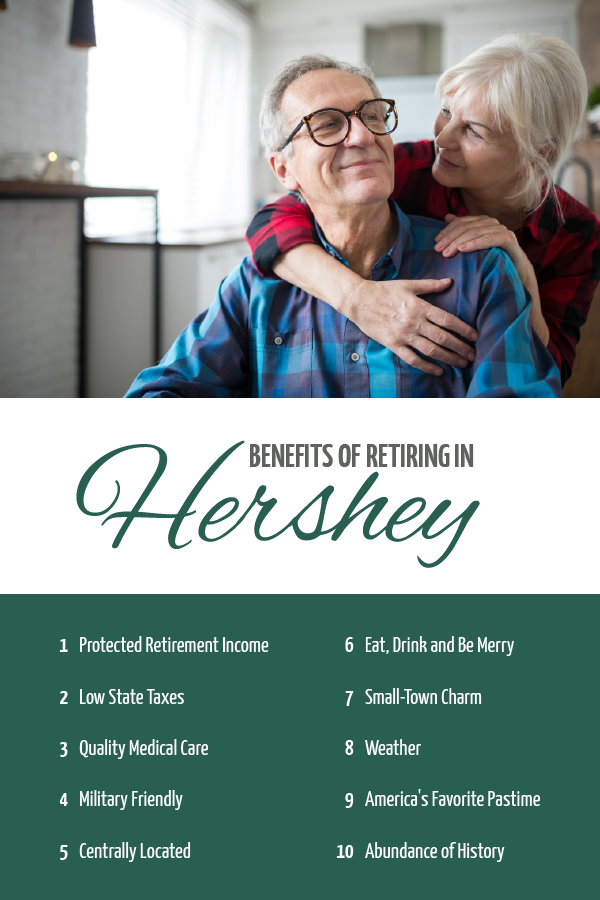 1. Protected Retirement Income:
When you're living on a fixed income, it can be frustrating to realize that your retirement is being taxed. Many states even tax Social Security benefits. Pennsylvania is one of only two states in the entire country that does not tax an individual's retirement income. Your pension, 401(k), IRAs and even Social Security benefits can't be taxed by the state. This means your money stays where it belongs — in your pocket.
2. Low State Taxes: 
Besides refusing to tax residents' retirement income, the state of Pennsylvania also has a low 6% sales tax on all items except food and clothing, which are not taxed at the state level at all. This is another big savings for residents living on a fixed income. On top of all that, Pennsylvania does not tax prescription or non-prescription medications. A 2016 AARP survey found that 75% of adults over 50 take prescription medication, so this means that most retirees will also see huge savings from not having taxes levied on their medications.
In addition to low tax rates, Pennsylvania residents over the age of 65 may qualify for property tax rebates. Your household income determines the amount of rebate you can receive. Even residents who rent their home may also qualify for a housing rebate if their annual income is below $15,000.
Another frequent concern for older adults is estate and inheritance taxes that many states require their loved ones to pay when they die. Pennsylvania does not charge an estate tax on spouses or direct heirs — defined as a child or grandchild — under 22 years of age. There is an inheritance tax, but the tax rate is determined by the heir's relationship to the deceased. In other words, your children and grandchildren receive a lower tax rate than siblings or non-relatives.
Pennsylvania is unique in its inheritance and estate taxes because, unlike neighboring New Jersey and Maryland, it does not charge both. It also does not tax charitable organizations that are named as a beneficiary of your estate. Spouses are also exempt.
3. Quality Medical Care:
The Hershey community is also served by the Milton S. Hershey Medical Center, home to the Penn State Medical School. Nationally ranked among the best hospitals for gastroenterology and orthopedics, as well as the #4 hospital in the state, Hershey residents benefit from outstanding medical care at their fingertips. The town is also only a short drive to the VA Medical Center in Lebanon County, which consistently ranks as one of the best veteran's health care locations in the United States.
4. Military Friendly:
Pennsylvania is home to more than 870,000 of America's veterans. Because many veterans begin receiving pensions earlier than the average adult, the tax structure in Pennsylvania is appealing to many who want to get the most out of their benefits. Coupled with Hershey's outstanding medical care, which may benefit veterans injured in the line of duty, and you'll find a great place for veterans to put down roots after retirement.
5. Centrally Located – Towns Close To Hershey:
Even though the town of Hershey is small, there's a lot to keep our residents occupied. But another great thing about Hershey is that it's centrally located to many of Pennsylvania's other attractions. The Keystone State is large, which means there are plenty of attractions to satisfy even the most adventurous of retirees. We're within driving distance of Harrisburg, Philadelphia, Lancaster, Pittsburgh and just about every other city in Pennsylvania. That means it's easy to take in an art museum in Philadelphia, a football game in Pittsburgh and enjoy Shoo-Fly pie at a quaint Amish eatery.
Even if you don't want to venture far from home, Hershey is just a few miles from the state Capitol. Harrisburg's Capitol Rotunda is among the most beautiful capitol buildings in the country, and the town offers restaurants, movie theaters and a quaint riverwalk.
6. Eat, Drink and Be Merry:
Pennsylvania is the number one producer of craft beer in the United States. Producing nearly 4 million barrels of beer each year, Pennsylvania has become a great place to be if you're a fan of microbrews. And, for those who want a little something different, Pennsylvania is home to a variety of vineyards and wineries as well.
Of course, we can't talk about Hershey itself without mentioning chocolate. Home to Hershey Park, an amusement park constructed around our favorite confection, you can't help but catch a whiff of chocolate as you stroll the park and enjoy the rides and attractions there. Even if you aren't into roller coasters, Hershey Park offers a variety of dining and entertainment options, including a variety of shows and seasonal events — a great family-friendly activity for when the grandkids come to visit.

7. Small-Town Charm:
Big city attractions and travel aren't for everyone. What many people love about Hershey is that they can move away from the hustle and bustle of city life and simply enjoy the charms of living in a small town. You won't need to master the ins and outs of a complicated public transportation system, you won't need to work to avoid rush hour, and you'll become close with your neighbors because you'll see them often.
Unlike many Pennsylvania towns that haphazardly appeared around industry, Milton S. Hershey planned Hershey as an idyllic American town that would be a pleasant home for his factory employees, complete with beautifully crafted homes, tree-lined streets and parks. His legacy of comfortable homes, quality public transportation and a good school system continue today. In fact, much of the town's notable architecture dates back to the Depression, when Hershey himself launched a building campaign to provide jobs for those who needed them.
Discover Cornwall Manor's Residential Options
8. Weather:
When you reach retirement age, you hear a lot about people heading down south to soak up the sun. But what if you want to enjoy all four seasons? That's when you move to Pennsylvania! Pennsylvania's climate is relatively moderate, which means you can enjoy warm summers, snowy winters and just about everything in between. In Hershey, you'll see plenty of fall leaves, but if you're looking for stunning views, you'll also be close enough to the Poconos that you can take a weekend away to enjoy the beautiful fall foliage, as well as the buds and blooms of springtime.
9. America's Favorite Pastime:
Fans of America's favorite pastime will find themselves with plenty to do in Pennsylvania. Williamsport, a short two-hour drive from Hershey, is home to the Little League World Series. Held annually, this championship is marked with a week-long celebration. While you're there, you can also plan a visit to the World of Little League®: Peter J. McGovern Museum and Official Store. Located next to the championship field, the museum is home to a large collection of artifacts and materials chronicling the history and importance of Little League baseball in the United States.
If this isn't enough to satisfy your passion for baseball, Pennsylvania is also home to two major league teams, the Philadelphia Phillies and the Pittsburgh Pirates, and several minor league teams – all within a reasonable driving distance from Hershey.
10. Abundance of History:
For those who enjoy a passion for life-long learning, Hershey is a great place to be. Home to one of the Civil War's defining battles, Gettysburg, Pa., is just one hour from Hershey. In Gettysburg, you'll find several historical sites and monuments dedicated to the famous battle, but the most famous of all is the battlefield itself. A visit to the Gettysburg National Military Park Museum is also a must while you're visiting.
Hershey is a short drive from Lancaster, Pa., which is overflowing with historical charm thanks to the large Amish population there. Just a little farther east is Philadelphia, home to the Liberty Bell and many other historic buildings and monuments. Philadelphia also has art museums, theaters and sports teams, which means there's something for everyone.
Pennsylvania Active Adults Retirement Communities
Hershey, Pa., has a lot to offer retirees — protection of your retirement income, an active lifestyle and options for independent living. If you're looking to downsize but still maintain your independence, then consider a senior living community like Cornwall Manor – just 15 minutes from Hershey, Pa. Providing outstanding housing and care for older adults since 1949, Cornwall Manor is dedicated to helping you enjoy your retirement.
We offer a variety of accommodations and a full range of amenities and services — Cornwall Manor isn't just your average retirement home! Our active adult retirement community offers maintenance-free living in your own home. Among our amenities are housekeeping and transportation services, personal care and on-site dining. We are also pet-friendly! Cornwall Manor provides a wide variety of social activities, but we also realize that's not for everyone. Our community is home to picturesque trails and centrally-located so that you can enjoy all that Hershey and the surrounding areas have to offer.
Ready to take the first step toward enjoying your retirement? For more information or to set up a tour, contact us today!

Discover Pennsylvania's Most Delicious Destination and More in Hershey PA
Cornwall Manor senior living community is located just a short drive from Hershey, also known as "Chocolatetown USA." Home to the Hershey Chocolate Company and Hersheypark, Hershey truly is "the sweetest place on earth." But being world-renowned for chocolate is just one of many facets of Hershey, PA. It is also the site of the Penn State Hershey Medical Center and Children's Hospital, the Giant Center event and concert venue, Hershey Gardens, the Hershey Museum, restaurants, shops and much more. See more things to see and do.
Hershey, PA is only about 14 miles from Cornwall Manor independent senior living community, making it a short drive using Rt. 322.
Directions to Cornwall Manor – Senior Retirement Community Near Hershey via US 322
Go Rt. 322 To Hershey, Go to Rt. 419, Turning left at RT. 419, Crossing Rt. 72 AND Continue to Cornwall Manor
We'd love to have you as a guest while you assess our retirement community. Call us at 717-274-8092 to schedule your visit.