Voted BEST Again!
July 2022
Cornwall Manor was again voted Best Retirement Community, BEST Senior Living and Best Nursing Home by the Lebanon Daily News. This is an accolade we've held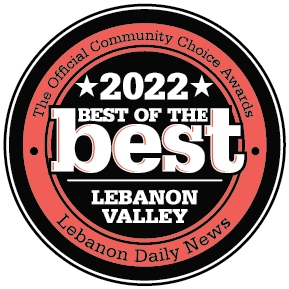 since 2011, when the contest began. That's right, the Lebanon Valley has voted us BEST for 12 consecutive years!
Cornwall Manor has been providing high-quality housing, healthcare and related services for individuals to achieve a retirement and aging lifestyle they find fulling. We've cared compassionately for thousands of people during our 73-year existence. So, what makes Cornwall Manor the best? With the help of our residents and staff, we've put together this list of what makes us the "best."
A beautiful and quiet campus on 190 wooded acres with a blend of historic and new buildings
Nestled in the peaceful countryside but just a short drive to top-notch medical care (VA Medical Center, Penn State Hershey Medical Center, Wellspan/Good Samaritan Hospital, Penn Medicine/Lancaster General Health); major highways, interstates, airports and Amtrak stations; and close to dining, shopping, theater/concerts/cultural events
Dedicated staff (almost 40% of our employees have worked here 10+ years) that know residents names.
Safe and secure. Did you know Cornwall was ranked one of the safest places to live in Pennsylvania? The Cornwall Borough Police Department and Community Cornwall Fire Department are less than one mile from our Buckingham and Woods campuses.
Maintenance-free living. No more cutting the grass, cleaning leaves from the gutter or shoveling snow. Just pick up the phone and let someone else take care of it.
Activities, trips and special interest groups galore. Our residents can choose from multiple things to do every day – they even tell us they don't have enough time in their day to accomplish everything!
Full wellness programming; including a therapeutic pool and spa, fitness center, walking trails, outdoor fitness stations and a variety of wellness classes
Partnership with the Rodale Institute, the leader in regenerative organic agriculture to provide an onsite organic farm
Health care is available on-site. We have comprehensive campus health services that includes a campus nurse, a visiting physicians office and home health, therapies, personal care, skilled nursing and onsite pharmacy services. Talk about freedom from worry.
Free transportation. Go where you want to go.
Bring Fido and Lulu. We are a pet-friendly community and feature a fenced-in dog park on our Buckingham Campus
Dining is available; no meal plan is required.
Independently owned with a management team onsite (not in another location).
Cornwall Manor is a non-profit organization with a $36 million Benevolent Care fund.
Sound, stable financial status
Affordable! Housing options for every budget and an abundance of choices. No two accommodations are identical.
Dedication to quality– Leading Age "Quality First"; Personal Care deficiency-free inspection (eighth consecutive) from the Pennsylvania Department of Human Services; Skilled Nursing deficiency-free inspection from the Pennsylvania Department of Health; 5-star rated Health Center from the Federal Center for Medicare and Medicaid
Onsite library and access to materials through the Lebanon Community Library
Cornwall Manor is not too big and not too small. We are home to 540 residents. This gives you the opportunity to get to know your neighbors and enjoy a community of new friends.
We are proud to be serving the Lebanon Valley community and to be named "best" for eleven consecutive years. What truly makes Cornwall Manor the "best" is our residents. Each resident is unique and different. They've lead fulfilling lives and have interesting stories to share. Thank you for continuing to make us strive to be the best we can be!